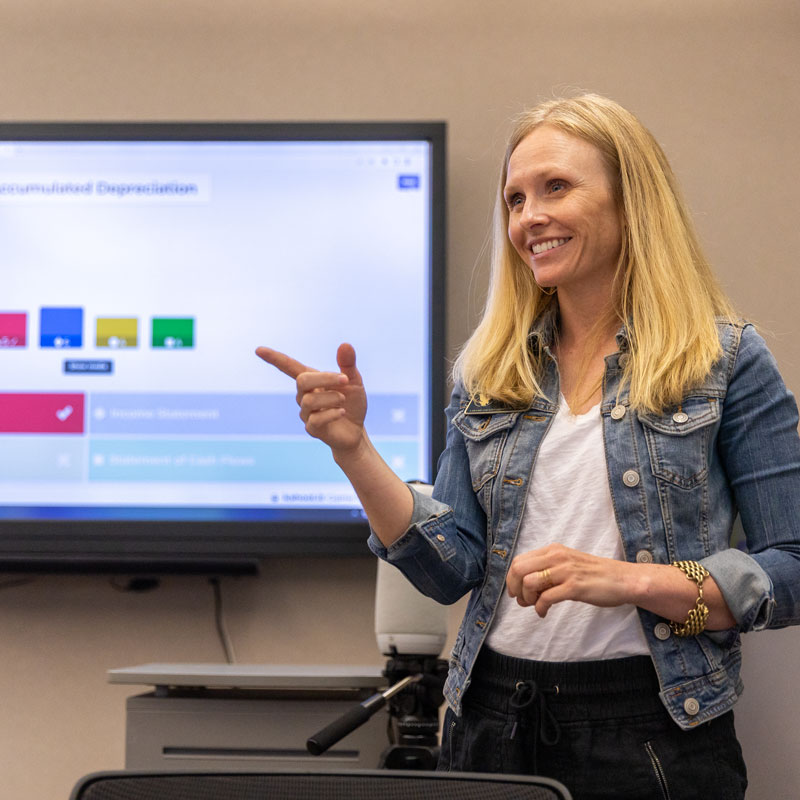 The Bachelor of Applied Science in Applied Management was developed for students who have completed an Associate degree. This program is intended for students who have demonstrated technical expertise in their chosen field and seek to further their education to move into management or administrative roles. Technical expertise can be demonstrated through an Associate of Applied Science (AAS) degree, other industry credentials (certificates, etc.) or significant technical/career work experience.
What will I learn?
Are your sights set on advancing your career into management? This program provides comprehensive business knowledge with a focus on strategic management. Students in this program will learn business skills to help grow an organization in a competitive environment.
Students will study real life scenarios, apply management and other business skills, and receive coaching from industry partners. This program offers a unique opportunity for students to gain an understanding of business management, and apply this knowledge directly to their own industry for development of their personal career.
Bachelor of Applied Science
The BAS in Applied Management is designed for students who have completed an associate degree from a regionally accredited institution of higher education or technical training provider. The degree is intended for students who have expertise within a specific technical area, experience working within that field and who seek to further their education and move into management or administrative roles by completing the requirements for a baccalaureate degree.
A minimum of 60 credits from a completed associate degree will be applied to the BAS degree, however additional lower-division coursework may be required as a part of the degree requirements. A minimum of 45 upper-division credits are required for completion of the bachelor's degree.
Available at the Cheyenne main campus and online.
Business and Accounting Activities
Students will be part of the Business and Accounting Pathway. BAS students will be encouraged to participate in campus and pathway activities as their schedule permits. BAS students will get the opportunity to interact and mentor pathway students who are pursuing an associates degree.
What can I do with this degree?
Graduates of this program typically advance into management positions within their technical career field:
Visit LCCC's Career Resources to find tools for selecting the right program for you and marketing yourself to future employers.
Cost of Attendance
For general college expenses, students should view LCCC's cost of attendance. Students in this program do not typically incur additional expenses.