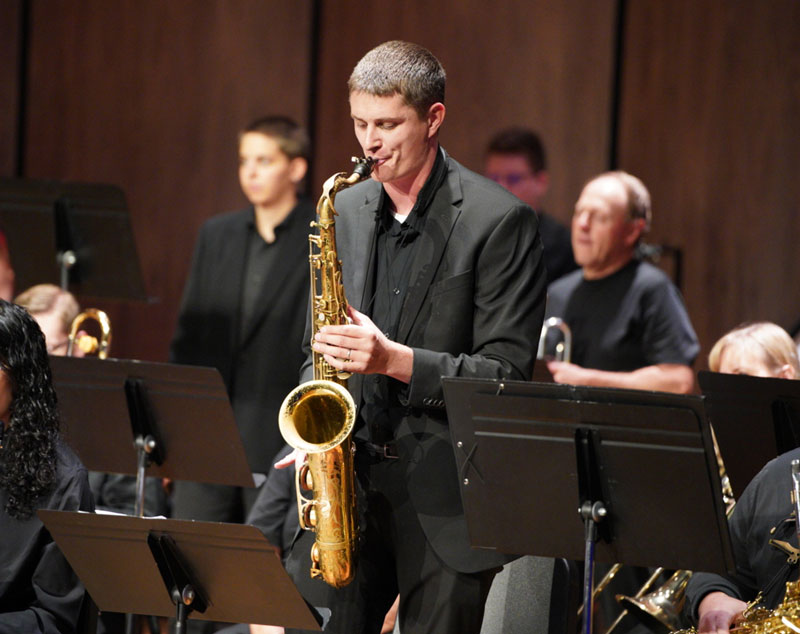 What will I learn?
Expand your passion for music! Our students enjoy a wide variety of music and are interested in an in-depth study of music and how to apply it to their own performance.

Students in this program learn about written and aural music theory and expand beyond basic knowledge of instruments, styles of music and music history.
Students may participate in LCCC ensembles including: Collegiate Chorale, Cantorei, jazz band and wind ensembles. Students also have the opportunity to participate in solo and chamber performance opportunities, and local and national collaborations and conferences.
Many courses and ensembles are also available to the non-music major.
Students seeking to complete a major in music, or who are interested in music courses, should seek the advice of a music faculty member in addition to their assigned college advisor.
Associate of Arts
This program prepares students for careers in music including: K-12, college, and or studio teaching, performance, music business, music theory and composition, and/or successful transfer to four-year institutions. Students will take courses in written and aural theory, music history, keyboard, musicianship and applied lessons.
Available at the Cheyenne main campus.
What can I do with this degree?
Students who graduate with an AA in Music typically go directly into working or continue on at a four-year institution.
Visit LCCC's Career Resources to find tools for selecting the right program for you and marketing yourself to future employers.
---
Ensembles
Current performance opportunities include Brass Ensemble, Jazz Ensemble, Wind Symphony, String Ensemble, Vocal Cantorei, Collegiate Chorale, and Applied Music Instruction (private lessons).
Ensembles are offered each semester as credit-bearing courses for college students, and are open, with permission of the instructor, to faculty, staff, alumni and community members. Private lessons are open to all and serve students on campus, dual-enrollment high school students, and individuals in the community who wish to learn or hone their skills in playing an instrument or singing.
---
Lessons
High School juniors and seniors in Laramie County School District 1 & 2 can enroll in free weekly music lessons with the faculty at LCCC and earn college credit at no cost.
Lessons are available to any LCSD 1 & 2 junior/senior who participates in band, choir, or orchestra.
Lessons are available for students of all skill levels.
90% of students taking LCCC lessons have received All-State recognition.
Contact Dr. Frank Cook with questions or requests to register: fcook@lccc.wy.edu or 307.778.1306
---
Cost of Attendance
For general college expenses, students should view LCCC's cost of attendance. There are additional fees for certain music courses.