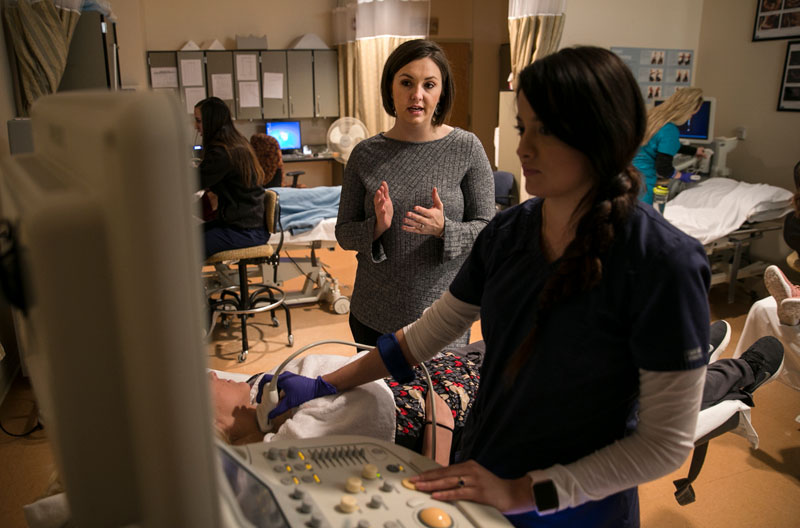 What will I learn?
A diagnostic medical sonographer performs ultrasound exams while working closely with a qualified physician for aiding in the diagnosis of disease. To operate the technology and create an ultrasound image, the sonographer must have an in-depth knowledge of physics, disease processes, human anatomy and sonographic technique. Physicians depend on the sonographer's knowledge to evaluate normal and abnormal body parts.
Diagnostic Medical Sonography (DMS) is a diagnostic procedure that uses high frequency sound waves to create detailed images of the human body. Sonographers use state-of-the-art technology to scan patients and obtain images of the abdomen, heart, blood vessels and fetus to aid in the diagnosis of a disease. Sonography is a profession that requires a high degree of independence, judgment, knowledge, maturity and stamina.
The sonography program is accredited in general and vascular studies, which include, abdomen, OB/GYN, and vascular.
Associate of Applied Science
The 24-month (six semesters) program is an intensive program designed for individuals new to patient care. After acceptance into the program, the first year (three semesters) is didactic on campus with hands-on learning in LCCC's state of the art sonography lab with highly qualified registered sonographers/instructors. The last three semesters of the program are primarily clinical experience, and students may be placed in various hospitals and clinics in Wyoming, Colorado, Nebraska, and Montana.
The program has limited enrollment and admits one class each summer. Prerequisite courses must be completed or in progress prior to application for program admission. Prospective students interested in the program may contact the program director for details about the program admission process and timeline.
A student interested in applying for the sonography program may contact the sonography program director, clinical coordinator or the Admissions Office for specific procedures. Selection of new students will be completed by early April and is based on a student's prerequisite grade point average, prerequisites completed or in-progress at time of application, the date of receipt of application, and other criteria as noted on program application materials and an interview. The scoring is weighted 70/30 on the interview (70 percent) and application (30 percent).
Available at the Cheyenne main campus.
What can I do with this degree?
Graduates of this program will be eligible to take the national certifying examination of the American Registry for Diagnostic Medical Sonography (ARDMS) for abdomen, OB/GYN, and vascular. Students can sit for testing 60 days prior to graduation and upon passing the examinations and completion of the program will be an active registered diagnostic medical sonographer (RDMS).
Sonographers typically work in hospitals that require 24-hour coverage including weekends and holidays, medical clinics and private medical offices.
Visit Career Coach for additional information about Diagnostic Medical Sonographers.
Visit LCCC's Career Center to explore resources for selecting a program pathway and career/job data.
Cost of Attendance
For general college expense, view LCCC's cost of attendance page. Students in the Diagnostic Medical Sonography program have additional estimated course fees expense of $2,300.00.* This is an estimate and may change at any time. This estimate may vary due to differences the number and type of immunizations needed and uniform costs.