Newsletter Feature Stories
June 2022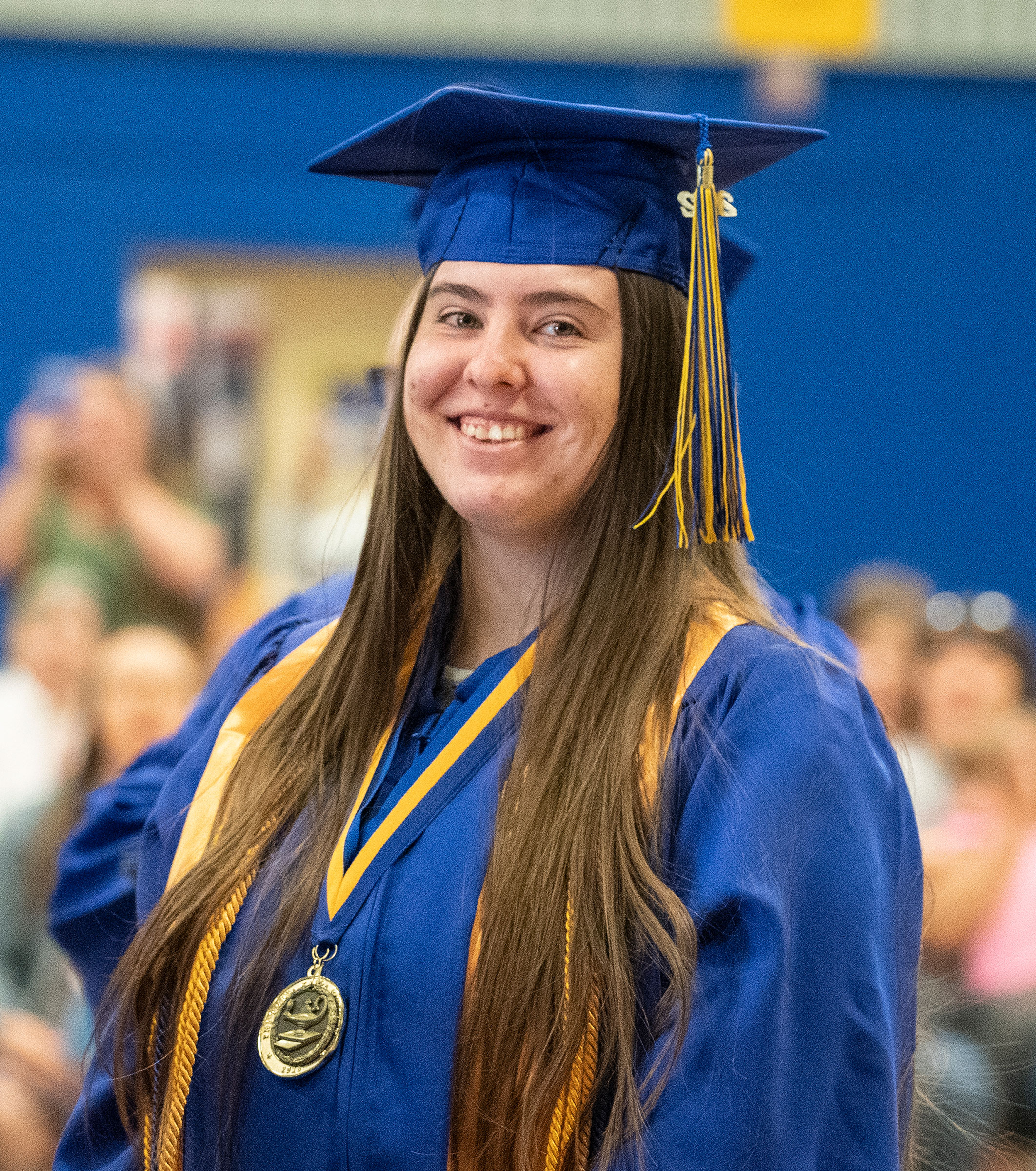 Donor Spotlight -
Carol and Earl

Kabeiseman

LCCC celebrated the 2022 Commencement activities on Saturday, Mary 14, on the LCCC campus. More than 700 degrees and certificates were conferred to LCCC students, including the College's first bachelor's degree graduates.

As part of the College's commencement activities, we also recognized that Stalcup Student Excellence Award winner, graduate Dariia Kasymova. The Stalcup Student Excellence Award was established by LCCC supporters Jan and W.M. Stalcup in 2016, in an effort to recognize students that have gone above and beyond by engaging in the LCCC Community.

Our 2022 recipient, Dariia, began her career at LCCC in 2019, as part of the College's Adult Education program and continued her education at LCCC, receiving her Associates of Arts in English. While pursuing her education, Dariia has served as a Student Ambassador in Student Services and a work study employee for the ACES ESL program. Dariia plans to continue her education at the University of Wyoming with the goal of returning to LCCC to work in the ESL program.

Congratulations to Dariia and all our graduates!
February 2022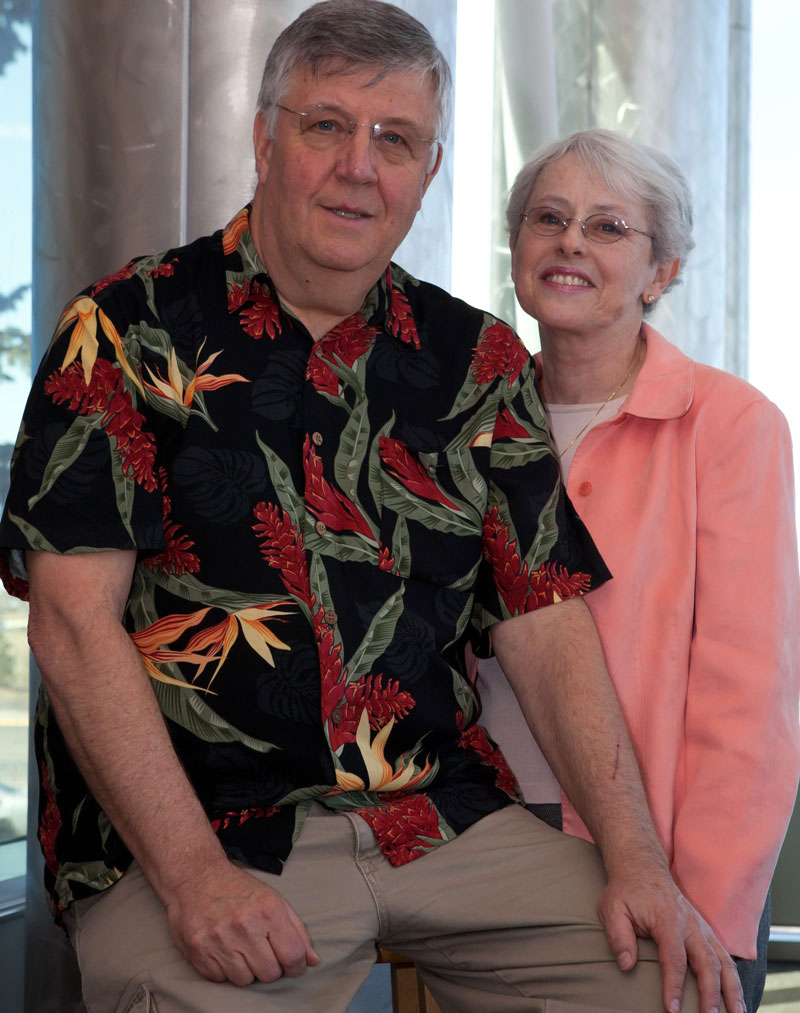 Donor Spotlight -
Carol and Earl

Kabeiseman

As the first director of the nursing program, Carol Kabeiseman has not only participated in the growth of the of the college, but has also been instrumental in the development and transformation of our students. "In the early years we were one big family. Helping each and every student get through their program, making sure they stayed on track for graduation. We also made sure the students had the proper supplies to be a success in the classroom; books, coats, rides to campus, we were all invested in the students' success. We wanted to remove as many barriers to education as we possibly could."

This spirit of access to education and dedication to student success was prevalent throughout Carol's 33 years at the college, and continues today through the Kabeiseman's support of LCCC. Carol and Earl have chosen to support students in the Health Sciences & Wellness Pathway by establishing an endowed scholarship for nursing students, and through the creation of an endowed fund to provide equipment for the nursing program. "We have seen how an education in nursing can change someone's life. From a single mother striving to bring herself and her family out of poverty, to a 63year-old following their passion to care for others; helping students discover a rewarding and career is truly powerful. The achievement of a student earning their degree will have an impact for generations to come. Life changing experiences are what LCCC can provide, and that is what we want to ensure continues."

In addition to LCCC, Carol and Earl are dedicated supporters of other community organizations in Cheyenne; and the thread that ties them all together is how they make a difference in the Cheyenne community. "If you want to support this community, then support LCCC! So many of the graduates from LCCC stay in this community to raise families, work, and provide opportunities for the next generation. We feel very fortunate for all the opportunities this community provides and we want to give back in a lasting and meaningful way."
December 2021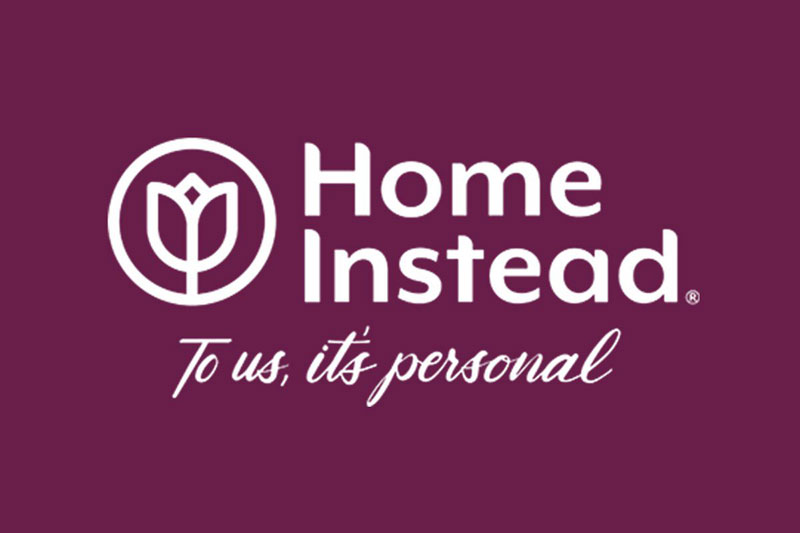 Donor Spotlight - Home Instead Senior Care of Cheyenne
Home Instead Senior Care of Cheyenne provides personalized in-home care and helps people age in place safely with dignity and independence. Home Instead Senior Care provides person-centered "home care" no matter where "home" is. From the family home to senior communities to rehab facilities and beyond, Home Instead is able to bring the care aging loved ones need to wherever they call home.
In 2007, Home Instead established an endowed scholarship to support LCCC students as they pursued an education in nursing. Since that time, the scholarship has expanded to benefit any student in the Health Science & Wellness Pathway, regardless of their academic pursuits. The goal of the scholarship is to empower students to achieve their dreams; providing an opportunity for students to serve their communities with compassion and care.
In addition to supporting LCCC students through scholarship opportunities, Home Instead has chosen to partner with the Health Science & Wellness Pathway to strengthen the program and provide for expanded student opportunities. By financially supporting the Health Science & Wellness Pathway Endowment, Home Instead will ensure LCCC is able to offer a transformational health care education to our students, and high caliber, caring and compassionate health care professionals to serve our community.
The LCCC Foundation is proud to recognize General Manager Bob Maguire and the entire staff at Home Instead Senior Care for their support of LCCC and LCCC Students!
September 2021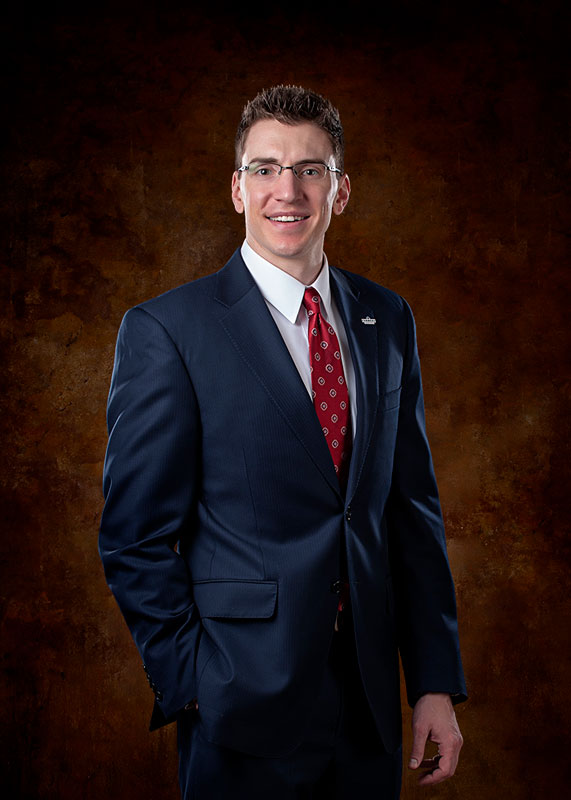 Alumni Spotlight - Eric Romano
Connection to the Cheyenne Community is a common trait among many LCCC graduates. That is certainly the case for LCCC Alumni Eric Romano.
Eric earned his Associates in accounting from LCCC in 2003 and is a graduate of Cheyenne's Central High School. "Smaller class sizes and direct access to instructors and faculty were very important to me in deciding to attend LCCC." Importance on direct access and personal connection is evident in the Eric Romano Agency; where Eric and his team serve their community and clients with individual attention. "I still have long-lasting relationships with my former instructors, and that has made a big difference in connecting with my community."
Perhaps that is why his education at LCCC was such a positive experience. "LCCC gave me the opportunity to stay in my home town and find my way within the post-secondary education system. I wasn't sure what field I officially wanted to pursue, and LCCC gave me the opportunity to complete pre-requisite courses at a much more affordable price when compared to a university. From there all my classes transferred to CSU to complete my degree in Business Administration, with a Marketing focus. If not for LCCC, I doubt I would have completed my undergraduate curriculum. "
Eric, his wife Megan, and their two sons are very active in Cheyenne and can be spotted at LCCC sporting events, supporting local arts and attending art festivals, and as a board member of the the Greater Cheyenne Chamber of Commerce.
We are proud of the impact this LCCC Alum is making in our community, and the impact he is making on future generations of Golden Eagles. "When the time comes my children are definitely attending LCCC for college, no matter what. It just makes sense!"
May 2021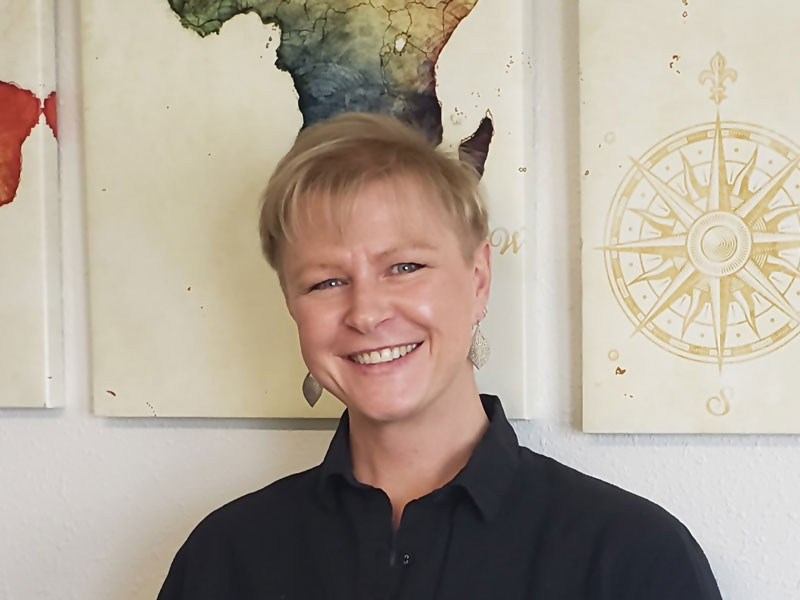 Alumni Spotlight - Jennifer (Jen) Corso, LCCC Class of 1998
Jennifer Corso (nee Breeden), attended LCCC to purse a degree in secondary education with plans to eventually become a teacher like her father. When asked about her time as an LCCC student, Jennifer said she had a great experience. Dave Zwonitzer was one of her favorite instructors. "He talked to you like you were an adult and he expected students to act like adults, which I appreciated."
After transferring to UW, and exploring her options, she found herself on a path to a Bachelor's in geography instead. "LCCC prepared me well for my university classes, although the large lecture classes at UW were a little surprising at first, and took some getting used to."
Jennifer accepted a job with State Lands & Investments as a GIS Land Inventory Specialist before graduating from UW in 2001. In, 2002, she transitioned to the Cheyenne Metropolitan Planning Organization (CMPO). She is currently a Geographic Information System (GIS) Coordinator, creating maps and other transportation plans for the City of Cheyenne, Laramie County, and the State of Wyoming.
"Mapping is storytelling," explains Jennifer. Recently, Jennifer created an interactive Cheyenne Urban Area Snow and Ice Control Guide allowing users to see snow routes through the city. She loves turning tabular data into visual stories like Cheyenne Area Crashes or the Cheyenne Area Traffic Counts. She is also compiling the newest Transportation Improvement Program, along with funding estimates for the implementation of those programs for the city.
In addition to her work at CMPO, Jennifer teaches GIS classes at LCCC stating, "I got to put my Secondary Education coursework to use after all."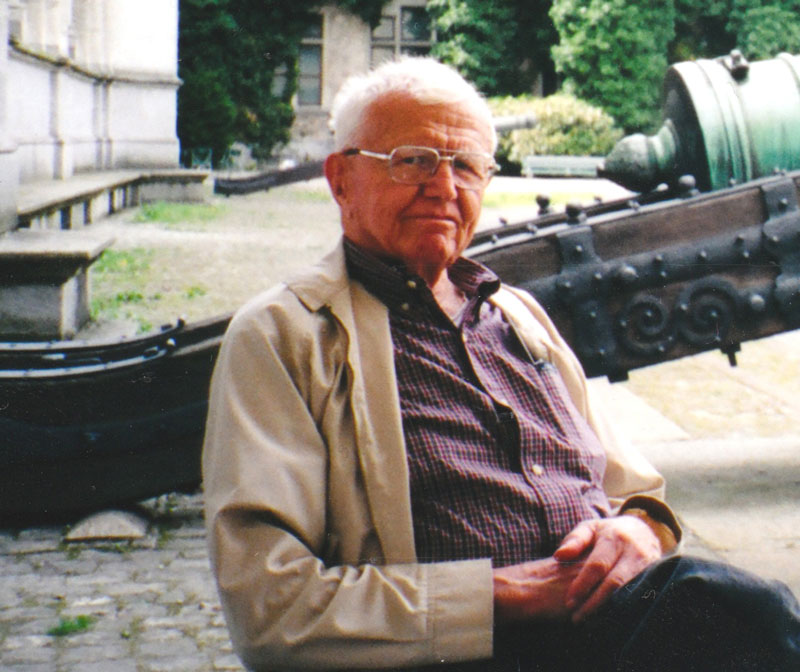 The Windy Ridge Foundation
The Windy Ridge Foundation have been a generous contributor to LCCC since 2016. Founded through the generous support and estate of Harry C. Vaughan, the Foundation has supported programs in the area of Science and STEM at LCCC.
Harry Vaughn, a lifelong learner and educator moved to Laramie, WY almost 20 years ago, after retiring from his professor role at Iowa State University. He loved the wide-open spaces; the view of the night sky – he even built a small observatory in his own backyard; and we aren't sure if he really enjoyed the wind, but he likely enjoyed the science behind the wind. Mr. Vaughan befriended many people in Laramie, sharing his love for education and science. In an effort to continue encouraging young learners to pursue science through education and as a career, he developed the Windy Ridge Foundation to support educational opportunities in the areas that brought him such joy.
The Foundation has supported LCCC through the establishment of the Harry C. Vaughan Scholarship, the Science Research Endowment and most recently the Foundation gave a matching gift of $50,000 to the STEM Pathway at LCCC. The gift to the STEM Pathway is designed to support LCCC students and programs that are focused on Science, Technology, Engineering and Math. Individuals and organizations that are interested in supporting the STEM Pathway and receiving matching funds are encouraged to contact the LCCC Foundation.
The LCCC Foundation and Laramie County Community College are grateful for the support of the Windy Ridge Foundation, its board and Mr. Vaughn.
February 2021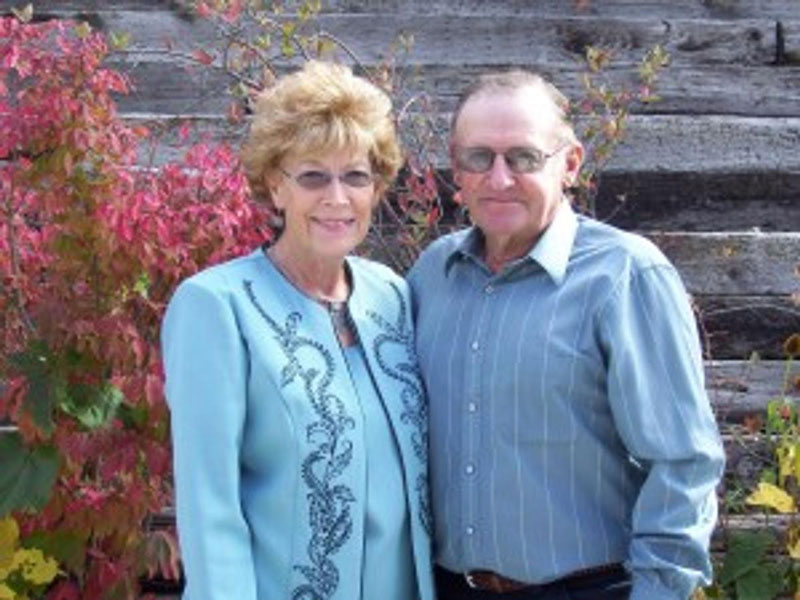 In 2020, a generous scholarship was established by Alice Brown Theobald and Lance Theobald to benefit students on the LCCC Rodeo Team. The scholarship has been endowed in memory of Alice's sister and her husband, Arlene and Don Kensinger.
Arlene and Don lived the rodeo lifestyle since their marriage in 1960. Don was a long-time volunteer of Cheyenne Frontier Days, and Arlene was the founder and director of the Cheyenne Frontier Days Dandies Drill Team for 29 years. Arlene's passion for working with young people led her to start the Miss Rodeo America Scholarship Foundation, and author six books on the 50-year history of Miss Rodeo America.
Arlene had a passion for helping young women develop as leaders in their community. Through her lessons of "Discipline, Love and Fun," Alice and Lance Theobald hope this scholarship program will impact generations to come.
The LCCC Foundation and LCCC Rodeo wish to thank the Theobald family for continuing the legacy of Arline and Don Kensinger.
October 2020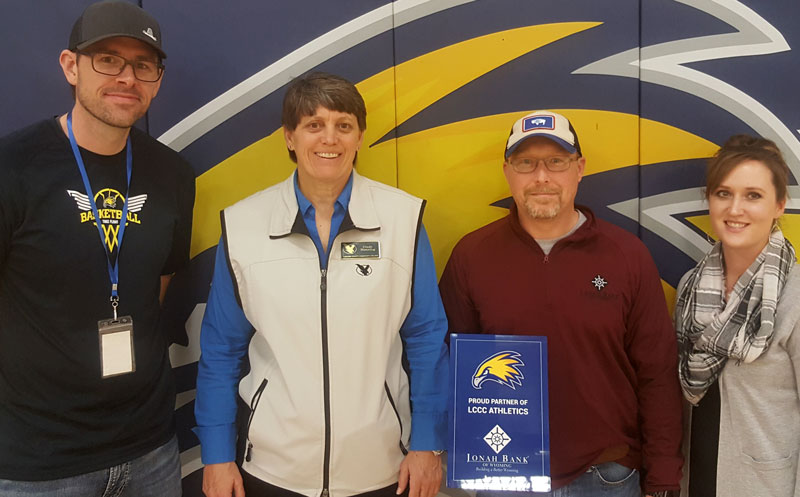 Jonah Bank of Wyoming
Jonah Bank of Wyoming was established in 2006 by a group of folks that live and work in Wyoming and care about Wyoming. The bank lives by the Code of the West and strives to use that code to guide its decisions in serving the State of Wyoming and Laramie County. Since that time, Jonah Bank of Wyoming has made a profound impact in our local community, partnering with many worthy organizations and striving to Build a Better Wyoming.
In 2019, Jonah Bank of Wyoming saw the values described in the Code of the West in the students of LCCC, and partnered with Golden Eagle Athletics. Mike Williams, Senior Vice President and Cheyenne Market President describes the recent partnership. "At Jonah Bank we recognize the benefit that LCCC provides to our community in educating our young people and more broadly the workforce that is so desperately needed to support economic development in Laramie County and the State of Wyoming."
Jonah Bank of Wyoming's partnership with Golden Eagle Athletics has increased scholarship opportunities for students; making the dream of achieving higher education more attainable. The partnership has also increased the awareness of LCCC athletics and the important role student athletes play in the greater Laramie County Community. "By providing funding to support these programs, the student experience at the college is enhanced, and local sports fans have a fantastic opportunity to watch student athletes compete at the next level," says Williams. "At Jonah Bank we believe in the Code of the West and we feel strongly that supporting LCCC is an effective way to Ride for the Brand!"
June 2020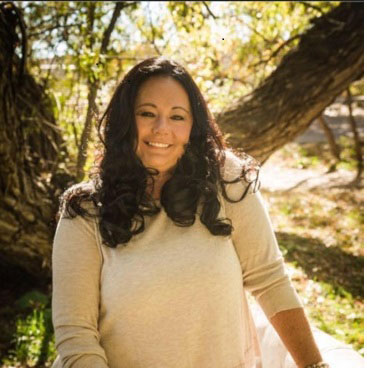 Jessica Jessen
Jessica Jessen is a passionate advocate for everything in her community. Each day she looks for ways to support Cheyenne and Southeast Wyoming, making a difference in the community that has helped support and nurture her personal and professional growth.
Jessica found LCCC twice as a student; the first time as young woman unsure of her educational direction and the second as a single mother ready to complete her degree. Jessica returned to the college as a working adult, raising children and attending classes. She felt unsure if she would connect with her faculty and peers. From her first day, she was brought into the LCCC family. "Everywhere I went, people when out of their way to help. The LCCC community did everything to keep me engaged and part of the campus. That engagement and concern for my future kept me motivated and excited each and every day."
Now a professional and community leader, Jessica looks forward to supporting the growth of the college that supported her growth and development. "LCCC does more than just deliver a quality education. The connections I made and support I received to finish my degree was key to my personal and professional development. I'm excited to return that level of support for all areas of campus."
As a proud alumnus, Jessica strives to support a number of areas on campus. From volunteering at the Western States Bank Food Pantry, to cheering on the Golden Eagle Basketball teams as a Flight Crew Member and participating in the Golden Eagle Community Connection program, Jessica wants to see all students succeed as she did. "LCCC has always felt like home. I'm excited to help others see what kind of asset the college is, and what kind of leaders the students will become for this community."
March 2020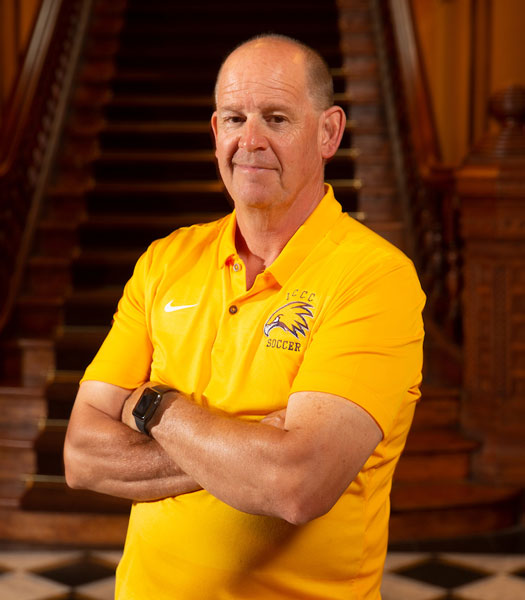 Coach Jim Gardner
Jim Gardner completed his 19th and final season with the Golden Eagle Women's Soccer program, having helped start the program in 2002.
Gardner had an overall record of 250-70-28 at LCCC. He captured 11 Region IX Championships, 9 District B Championships, and guided his team to the NJCAA National Tournament 11 times. He has been named the Region IX Coach of the Year eight times and named the NSCAA Regional Coach of the Year in 2013. His teams have placed third three times at the national tournament.
Over the course of his career at LCCC, Gardner produced 31 All-Americans, 12 Academic All- Americans and 80 All Region IX performers.
Gardner also taught and coached for LCSD#1 for 34 years of his career. During the 10 years he was involved with the Cheyenne Sting Soccer Club, he was a coach, board member and president. For 22 years, Gardner also coached wrestling at Cheyenne East High School. In the late 80s and early 90s, Gardner coached the Jessup Elementary Jumpers jump rope team.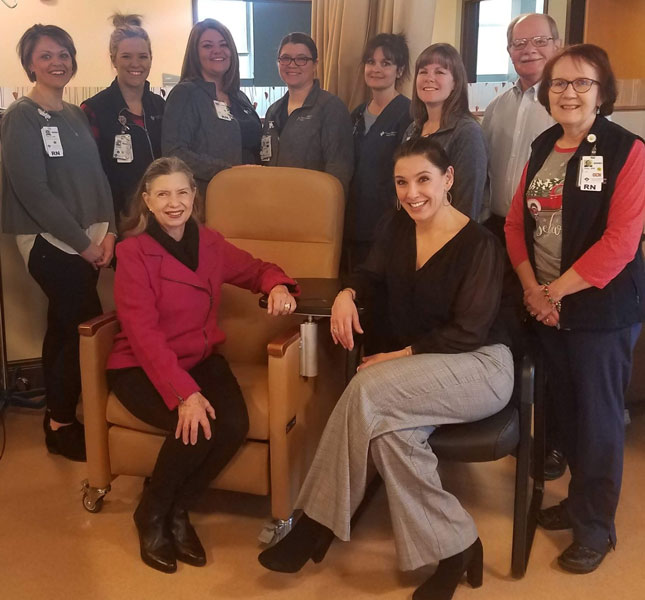 Rick & Diane Kaysen
Longtime Cheyenne residents and supporters of LCCC, Diane and Rick Kaysen recently established the Kaysen's Chemo Team Scholarship. The scholarship will benefit nursing students at LCCC and assist with the costs of participating in the program. Diane and Rick were looking for a way to thank the amazing nursing team that guided and cared for Diane during her cancer treatments.
Diane said "The nurses at CRMC's Infusion Center who helped me through treatment were professional, caring and compassionate towards me and others. They treated me as their best friend and shared stories with me about their personal lives. I felt loved and honored, and I never dreaded coming into the center for treatment."
For the Kaysens, this scholarship honors and recognizes those that provided care, and those that are training to provide treatment and care to our community members and friends. Diane didn't always see educational opportunities in her future, but through the generosity of others, she was able to obtain an associate degree from LCCC as well as a bachelors and masters degree. Education provided self-empowerment and confidence as she continued to achieve her life's goals.
The Kaysen's Chemo Team Scholarship honors and recognizes the following nurses: Pat Wagner, Charge Nurse; Jessica Glaze; Tracy Kilian; Beth Martin; Stephanie Miller; Angela Murdoch; Jackie Olson; Susan Pixley; Debbie Wohllaib and Kasadee Zunker.
---
Finding 50
In 2018, LCCC celebrated its 50th anniversary. As part of that celebration, we highlighted 50 successful and diverse alumni and friends who make us all proud to be Golden Eagles. View Finding 50.