LCCC Rodeo Sponsorship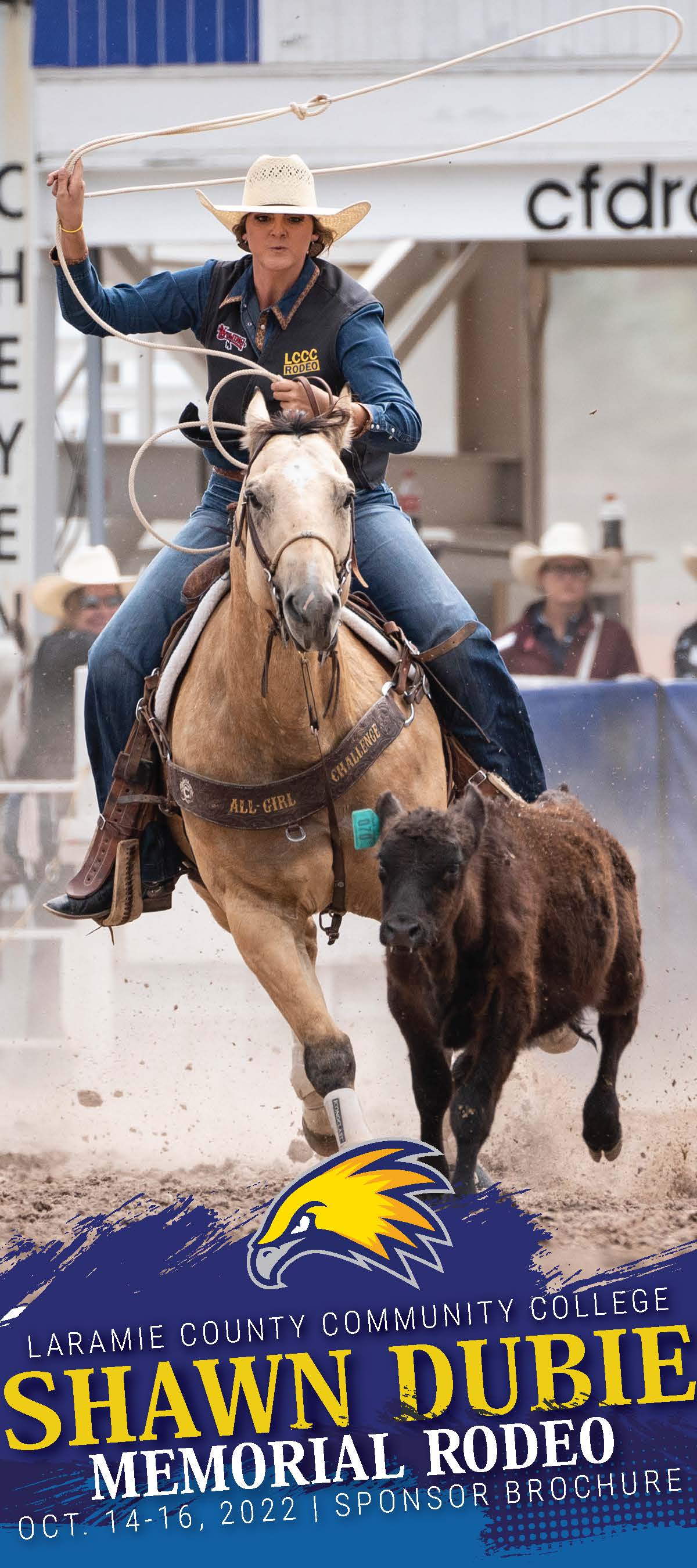 Support Laramie County Community College Rodeo through sponsorship of the Shawn Dubie Memorial Rodeo.
Shawn Dubie attended LCCC and qualified for the College National Finals Rodeo in 1987 and 1988. At just 21 years old, Shawn passed away following an injury sustained at the Greeley Independence Stampede. The Shawn Dubie Memorial Rodeo was created to honor Shawn and his contributions to the College and to college rodeo. Proceeds from this rodeo are used to support an LCCC scholarship established in his memory.
A Message from Coach Glause
We are extremely fortunate to have a rodeo program in the heart of true cowboy and cowgirl country. The Cheyenne community has been generous in supporting these Golden Eagles pursing their higher education degree as well as the LCCC rodeo program. Your
giving is appreciated by our coaches and most importantly, the student athletes who utilize the funding for scholarships, program needs, and the promotion of the annual Shawn Dubie Memorial Rodeo.
Thank you for your support!
Seth Glause, Head Coach LCCC Rodeo
If you have any questions, please contact Mark Puev, Athletic Director at 307.778.1185 or mpuevFREELARAMIE.
Sponsor Levels & Benefits
Level

Logo on GoLCCC.com
Website

All-Sports Season Passes (including SDMR)

SDMR Passes Only

Program Recognition at SDMR

Announcement Recognition during SDMR

Regonition at Lariats-n-Lace Event

Commemorative LCCC Buckle

Preferred Event Signage

Premium Event Signage

All-Around
($5,000)
x
7
-
x
x
X
X
-
x

Top Hand
($2,500)

x
5
-
x
x
X
X
x
Golden Rope
($1,500)
x
2
-
x
x
X
Buckle
($500)
x
-
2
x
x
Wrangler
($250)
x
-
2
x