A Clinical Approach
If you've received medical care in southeast Wyoming—at a hospital, a clinic, a dentist's office—you've likely engaged with an LCCC graduate in that field. These graduates have undergone rigorous studies and training at LCCC, capped off with clinical rotations that are crucial to ensuring they get the best education possible.
Starla Mason, dean of the School of Health Sciences & Wellness, noted that LCCC graduates tend to be sought out for jobs due to these extensive and varied clinical experiences. In fact, roughly two-thirds of these graduates are hired at the clinical sites where they trained.
At Laramie County Community College, all programs in the Health Sciences & Wellness Pathway require some type of clinical or internship experience to obtain a degree. It's something that benefits the students, the college, and the community.
AMBER TELANDER, program director for dental hygiene, can personally attest to the success of clinical experiences. A faculty member since 2012, she graduated from this program in 2005.
"If I didn't believe in it, I wouldn't be here," she said. "This is a great program and attracts prospective students from around the world."
The dental hygiene program is intense, accelerating a typical two-year track into just 16 months. Graduates receive an associate of applied science degree and are eligible to take the appropriate national, regional, and state examinations.
Hygienists are independent, preventative oral-care professionals licensed to provide education, clinical, and therapeutic dental hygiene services.
Student Cheyenne Robertson joined the program in January 2019. She chose LCCC specifically for the dental hygiene program, finding her passion working as a dental assistant after high school. At first, she believed her dental background might make the work easier.
"It did not," she said, laughing. "I knew how to do small things, but by no means did my experience help me do any better. It's been a lot of work."
One of the biggest perks of enrolling in the program is getting to help the community while working in the school's clinic.
"We offer low-cost cleanings to our community, which is essential for individuals who don't have insurance," Telander said.
The on-campus dental hygiene clinic offers services such as cleanings, X-rays, and sports mouth guards. Students in the program provide the dental care, supervised by faculty. Telander considers Laramie County to be a diverse dental population, so these students help a wide range of clients.
While some people might be opposed to working in the mouth, Robertson is enthralled by it, enjoying every day she's helping patients.
"This program gives people a usable skill that you can't just pull someone off the street to do," she said. "It's sincerely a unique set of skills."
DENTAL HYGIENE

DIAGNOSTIC MEDICAL SONOGRAPHY

EXERCISE SCIENCE

HEALTH INFORMATION TECHNOLOGY

NURSING

PHYSICAL THERAPIST ASSISTANT

RADIOGRAPHY

SPEECH LANGUAGE PATHOLOGY ASSISTANT

SURGICAL TECHNOLOGY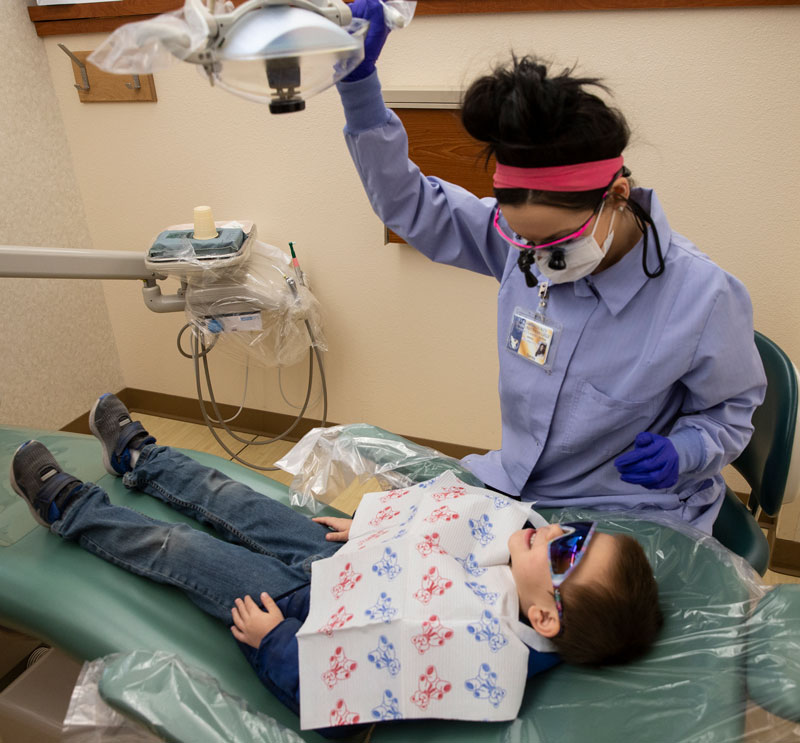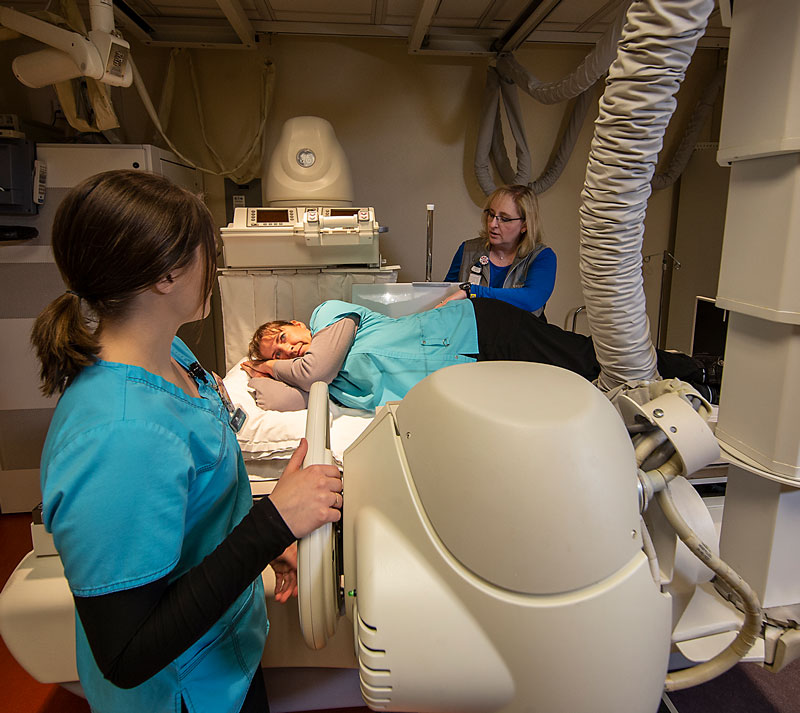 EVEN THOUGH Jesse Mann held a bachelor's degree from Kansas State University, he felt like he was drowning while working in a corporate environment. He even considered the physical therapy field, but he didn't want years of schooling for a doctorate.
After learning that he could obtain an associate degree to become a physical therapist assistant (PTA), he made the decision to go back to school, quickly landing on LCCC.
"I want to make people's lives better," Mann said.
A PTA works under a physical therapist's direction, helping patients who have health-related conditions that limit their daily activity. They may assist in the development of treatment plans, as well as documentation and modification of certain treatments established by the physical therapist.
During the LCCC program, students work in two clinical practicum rotations for seven weeks each, overseen by a licensed physical therapist. They receive a minimum of 560 hours of clinical experience.
"It's exciting because I'm so close to graduating, but also I'm a little nervous to do clinicals," Mann said.
Jenna Kibbon, an instructor and the clinical coordinator for the PTA program, has seen plenty of nervous students at this point.
"That first clinical experience helps boost their enthusiasm for this profession," she said. "Every day they do clinicals, it shows how much they've learned and how great it is to help people."
In the fall, Mann worked in clinical rotation at a healthcare facility in Cheyenne, and later moved to a clinic in Laramie. He loves the hands-on aspect,
seeing patients' faces light up when they've reached a new goal.
PTAs are critical in facilities across the country, especially in small communities in Wyoming. Kibbon said it can be challenging to employ the number of physical therapists necessary to meet a community's needs.
"I'm happy I got to do this," Mann said. "I'm dead-tired, but I'm so stoked about the route I've taken in life."
WHAT IS diagnostic medical sonography, or DMS? It's likely more than people realize.
"Students are not only learning the anatomy, physiology and pathophysiology of all the internal organs and soft tissues, they learn how to best visualize and image those structures in a patient," said Sheridan Hanson, DMS instructor and clinical coordinator.
Doctors rely on sonographers to evaluate normal and abnormal anatomy and to investigate pathological conditions.
"An ultrasound can scan to characterize tissues and masses to help physicians get a detailed picture of what might be going on," Hanson continued.
At LCCC, the first three semesters are spent in the on-campus lab; the final three semesters are primarily clinical experiences in hospitals and clinics.
While many think of pregnancy when it comes to sonography, the profession encompasses a wide variety of examinations.
"Imaging studies can tell us a lot, so when a doctor is trying to diagnose a patient, an ultrasound can be part of a group of studies that help solidify a diagnosis." Hanson explained.
Student McKayla Workman became interested in the field after a career day in high school. She was passionate about science, and now she enjoys
evaluating the anatomy of a variety of organs. She's currently working in her clinical rotations, and the experience has been profoundly rewarding.
The job also can be emotionally challenging.
"There are times when you find something on a scan that is life altering for a patient," Workman said. "We can't tell them anything, so it can
be really hard. But it's all about the investigation and being as thorough as possible."
Workman praised her clinical site, noting that the staff has been wonderful in guiding her and allowing her to learn on her own, even building rapport with patients she sees regularly. She no longer feels like she's just a student; she's part of the site's team.
"I've learned so much during clinicals," she said. "I got to start scanning on my second day there, so I feel really confident in what I'm doing. I appreciate that they trust me."
---
These clinical experiences that LCCC students receive are crucial to their education and to helping patients in all of these fields. Ultimately, it's an experience that benefits everyone involved.
"Simply put, our programs couldn't exist without the strong affiliations we have with our clinical sites," Mason concluded.