2013-2014 Annual report at a glance
School enrollment popularity
Degrees & certificates awarded: 840
277 Associate of Arts
116 Associate of Science
249 Associate of Applied Science
196 Certificates of Completion
Annualized enrollment: 5,668
| | | | | |
| --- | --- | --- | --- | --- |
| Under 17 | 256 | | 40-49 | 360 |
| 17-24 | 3,226 | | 50-59 | 199 |
| 25-29 | 765 | | 60+ | 145 |
| 30-39 | 703 | | Unknown | 14 |
From where?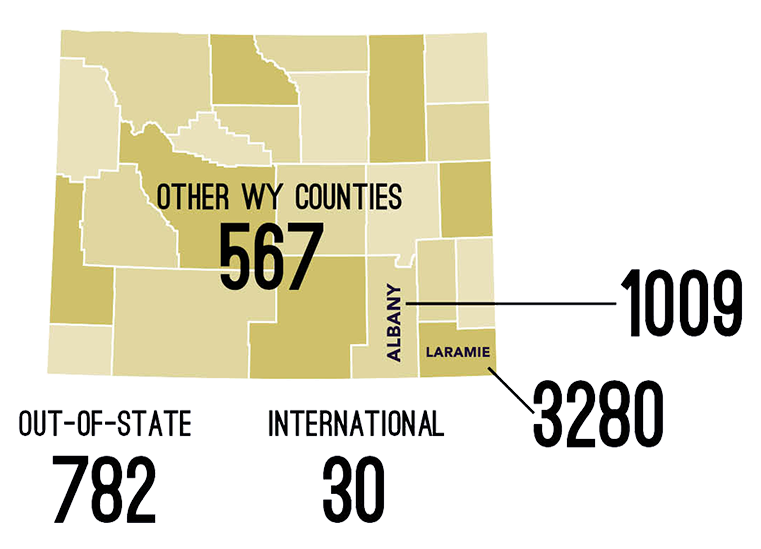 Financial breakdown
Expenditures by program
Expenditures by series
Revenues
For FY2013-2014, expenditures exceed revenue. Funds from the reserve were used to make several investments on campus.
More numbers
68 Academic programs
24 Career programs offer certificates of completion
111 Full-time faculty
277 Part-time faculty
352 Benefited employees
55 Clubs and teams including NJCAA sports
Key performance indicators report
2012-2013
2013-2014

Overall grade

C

C

Key effectiveness indicators

Student participation and achievement
C
C
Academic preparation
C
C
Transfer preparation
B
B
Workforce development
B
B
Community development
B
B

Key efficiency indicators

Instructional productivity
B
B
Fiscal stewardship
D
C
College affordability
B
B
Campus climate
B
B

Laramie County Community College is committed to continuous improvement and the evaluation of institutional performance. This commitment is reflected through an assortment of activities and processes emanating from the college's mission, vision and strategic plan. Each indicator has multiple performance measures. The results of these measures are analyzed and assigned grades, which are averaged to determine the grade for each indicator and an overall grade for the college's annual performance.
Strategic goals
With an eye to the future, a strong desire for excellence and a staunch dedication to student success, LCCC has embraced the following strategic goals to guide its work through 2020. LCCC will continue to provide updates regarding the targeted outcomes that will be used to evaluate its success.
Completion Agenda for the 21st Century
Connections that Improve Student Transitions
An Organizational Culture to Thrive in the Future
A Physically Transformed College
For more complete information, visit LCCC's website and search for "report card" and "strategic planning."