Bringing it home
Volleyball coach recruits success within driving distance
Recruiting overseas isn't necessary to find great athletic talent for a winning volleyball team. You don't even have to span the country!
At least that's what first-year head coach of the Golden Eagles women's volleyball team, Austin Albers, has proven. The team has exceeded 20 wins for the first time in five years, and that's with a roster where 14 of the 15 players live within a 380-mile radius of Cheyenne. That doubles the average number of players within that same radius from the past five years. We're talking at most just a seven-hour road trip away.
"The theory is simple," Albers explained. "In order to build a multinational corporation, you often have to start the process out of your own garage. That is what we are doing here. We are in the beginning stages of developing LCCC Volleyball into one of the country's big-name programs by starting with the best players from our own neighborhood."
Albers has five recruits committed to join the team next season, and sure enough, they all follow the philosophy: two from Johnstown, Colorado., one each from Loveland, Colorado, Littleton, Colorado, and Riverton, Wyoming.
"We feel that recruiting regional athletes allows us an opportunity to spend more time with prospects during the recruiting process to ensure that their vision coincides with ours," Albers said. "When that vision is passionately shared between all the entities of the program, winning becomes a byproduct of developing our athletes into quality young adults."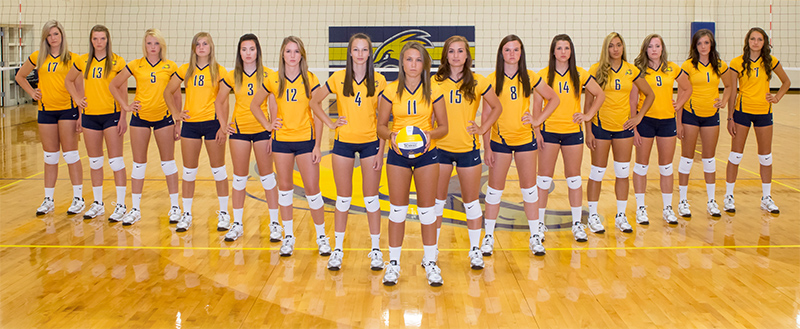 From left to right: Teerstyn Johnson, Pinedale, Wyo., Hannah Huus, Gillette, Wyo., Mikaila Jegtvig, Steamboat Springs, Colo., Brittney O'Kief, Valentine, Neb., Whitney Shawyer, Johnstown, Colo., Breanne Hankins, Johnstown, Colo., Paulina Hileman, Johnstown, Colo., Dani Peterson, Gillette, Wyo., Teslin Holton, Galeton, Colo., Hallie Burkart, Yoder, Wyo., Shelby Johnson, Gillette, Wyo., Kanani Auwae, Waianae, Hawaii, Aspen Olson, Johnstown, Colo., Rory McCloy, Salt Lake City, Utah, MiKayla Martinez, Erie, Colo.