From the president
It is truly my pleasure to introduce you to our latest edition of The Talon. As in the past, inside this edition you'll discover stories about the many individuals whose lives and accomplishments are woven into the fabric of the LCCC community. Read about many of the newer faces at LCCC, such as Dr. James Malm who has taken the helm of our Albany County Campus, or Daniel Maw, one of our art faculty and department chairs and his approach to storytelling through his art, and Austin Albers, LCCC's volleyball coach and how his approach to recruiting local and regional talent proves who can be a winning team with athletes from our backyards.
Within these pages, you'll also learn about the innovations and happenings occurring
 at LCCC. For example, we share an update on the work with our Building Forward facilities plan and the progress to date on our current major building projects. Or learn about how the college is partnering with the University of Wyoming to better align our programs ensuring a smoother transition for students transferring between LCCC and UW. You'll also learn about our work with the refining industry and other community colleges in Wyoming to create an accelerated training program that addresses critical workforce needs.
We've also added a few new elements to this edition. I am very excited to share the 2013-2014 LCCC annual report supplement within this edition. This supplement provides a quick snapshot of the people, programs, and finances of the college, as well as the institution's annual report card, where we grade our ability to be effective and efficient in our work. We've also added a Class Notes section, highlighting the accomplishments of some of LCCC's alumni. I would encourage all alumni of the college to participate in our Alumni & Friends program and share their successes with us.
Of course, there is much more inside these pages. I know you will find the stories informative and motivating, and hopefully you will enjoy reading them as much as we enjoy writing and telling them.
LCCC is a community of wonderful people, who together achieve wonderful things. On behalf of all of us at LCCC, thank you for your support of our exceptional community college. Best wishes for a joyful holiday season.
Sincerely,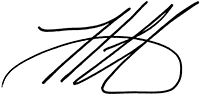 Joe Schaffer, Ed.D President