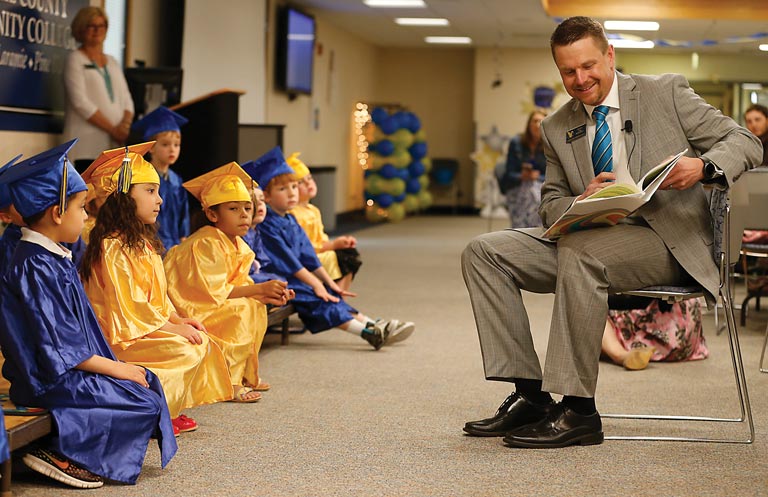 Success on campus isn't limited to college students. Children in the LCCC Children's Discovery Center endeavor for success as well.
"We look at developing all areas," said Carrie Westling, the director of the CDC for the past seven years.
While other Wyoming community colleges have a similar program, Westling says that LCCC's is the only one open to the entire community, not just students and faculty.
She further elaborated that the CDC is a functioning lab school that allows LCCC students in such disciplines as education, nursing, psychology, and dental hygiene to observe and interact with children in furtherance of their degrees.
A comprehensive year-round preschool program, the CDC has full accreditation through the National Association for the Education of Young Children with additional commendations.
"It is a concept that incorporates the NAEYC accreditation standards and state of Wyoming guidelines for effective early childhood education," Westling stated. "We also chose to be licensed through the Wyoming Department of Family Services."
Qualifications for the CDC teachers are extensive. Lead teachers must have at least a bachelor's degree, and associate teachers must have a minimum of an associate degree.
"Our teachers create plans for the children that are developmentally appropriate. We strive to help children begin their educational journeys excited and wanting to learn," said Beth Storer, lead teacher for the CDC.
Affie Ellis and her husband Dennis have brought their children here since 2009, including a three-year old daughter who still attends the Center. Their two other children are now in grade school.
"We've enjoyed the opportunities at the CDC that aren't available elsewhere, such as visiting the campus library, gym, gardens and horse stalls," Ellis said.
The Center offers full- and part-time classes geared toward implementing pre-kindergarten readiness. New classes have been necessary to address increasing demand. Part-time classes were created to accommodate the schedules of LCCC students and their families.
Westling discussed how expectations are different for those entering kindergarten from just a generation ago. Part of the school district's kindergarten assessment is now done on computers using a mouse. Therefore, the CDC has computer-based learning programs that allow children supervised access to technology, complimented by the use of touch boards in the classrooms.
The CDC team looks at where a child is beyond their chronological age. Individual development and rates of development are taken into consideration by the staff.
"It's about providing the curriculums and giving children the skills to encourage discovery and hands-on learning," Westling said.
Westling added that developing self-esteem and a lifelong love of learning are program cornerstones. "We want children to have a varied and stimulating experience. That is essential to their educational and developmental growth."
Parents are encouraged to apply early if they are interested in getting their children into the CDC. According to Westling, the success of the program is illustrated by the fact that slots in the infant program are reserved before the children are even born.
"We are proud that it has developed into an amazing place for children to learn, develop and build a base for future educational success," she said.