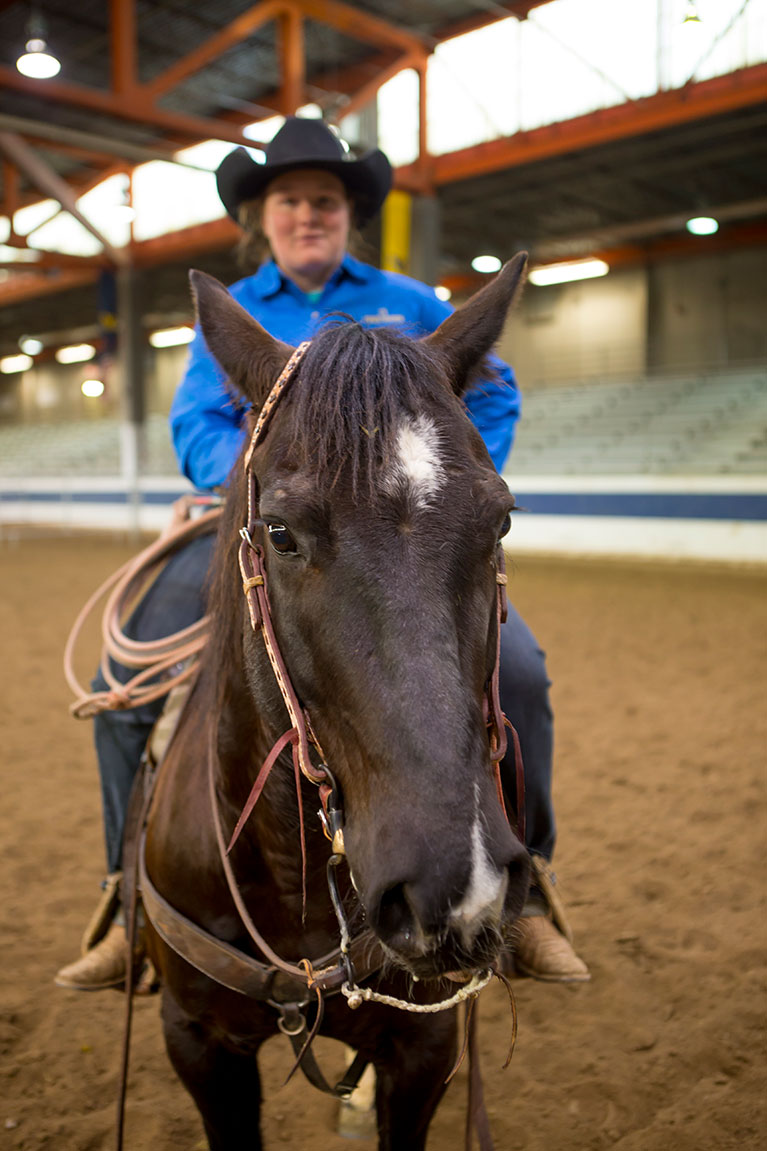 CY is a hardworking cowgirl who grew up on a ranch near Kennebec, South Dakota. Riding horses and roping was a part of her upbringing, and she got dang good at it. She became a bit of a rodeo star in high school, including winning the South Dakota State High School Rodeo Championship in breakaway roping as a freshman and a three-time national qualifier. Her accomplishments go on and on. The bottom line? She's good.
CY came to LCCC in the fall of 2013.
"I just love it here. I do," CY said. "If I could stay here the rest of my life, I might."
CY will graduate in May, but this past year, she already hit her goal of making it to the College National Finals Rodeo (CNFR) by beating out the competition from the surrounding colleges and universities, becoming this year's Central Rocky Mountain Region Breakaway Roping Champion.
"Well it was my goal last year, but that didn't go good." CY chuckled. "No, this year I had a different mindset coming in. I kinda was like, well heck with it. I might as well go for it now."
She maintains an incredibly upbeat, positive and easy-going personality. That attitude seems to stem from her appreciation of life.
"It could be worse, life could be worse than missing a calf," she said.
CY knows that all too well. When she was young, she had Wilms' tumor, a rare form of kidney cancer. CY had to have her kidney removed when she was three years old and went through several months of chemotherapy. Things stayed clear for about a year, but more spots showed up on her lungs when she was five. After a couple years of more chemo, things seemed to be looking up.
Her cancer stayed clear until they found more spots on her lung during a routine appointment when she was nine. In the process of removing them, they discovered a new problem: she now had thyroid cancer. CY said she couldn't recall much from the treatments when she was younger, but she remembers the latest treatments all too well.
"Yeah, I was pretty scared," she said. "I was like, 'not again. No. I don't want to do this.' That was probably the hardest one on me." She had to go through consistent chemo treatments and have her thyroid removed. But for CY, the hardest part was that she wasn't allowed to do what she loved most – ride. She couldn't even be out with her family on the ranch and rope. Even at such an early age, that was her passion.
"The only thing that slowed me down was the doctors told me that I couldn't get dirty," she remembered. "I couldn't be outside."
That passion is what helped her stay strong and push through the hardship. She didn't let cancer get in the way, which really means nothing ever would. She clearly demonstrated this in her successes to this point. CY finished 27th at the CNFR, which is right in the middle of the pack. She had a no score in her first go, 12 seconds in the second, and 3.5 seconds in the third. There's no doubt that won't hold her back, in fact it will probably motivate her more to go for it all again.
"I can't just fall off and not get back on," she said. "That's just pathetic."
"CY is very talented in the arena. When they call her name to compete, that top spot is always on her mind."

—David Browder
LCCC Rodeo Coach