Let's be honest: Beer is ubiquitous in our culture. But the creation of each beer is a more than just a simple beverage found in a bottle; it's also a study in science, in innovation, in flavor. Now, LCCC has a new set of outreach classes "on tap" for the Laramie community to explore.
LCCC's Albany County Campus has incorporated "Introduction to Brewing Science" into the Outreach & Workforce Development class schedule for a few semesters now, and it's been a tremendous hit.
James Malm, associate vice president of ACC, got the ball rolling. Before he arrived at LCCC, he designed a similar program with a retired professor who happened to be a principal at a brewing company in Colorado Springs. "I brought those experiences with me to LCCC, then to Jared at Altitude. He picked up the concept and ran with it."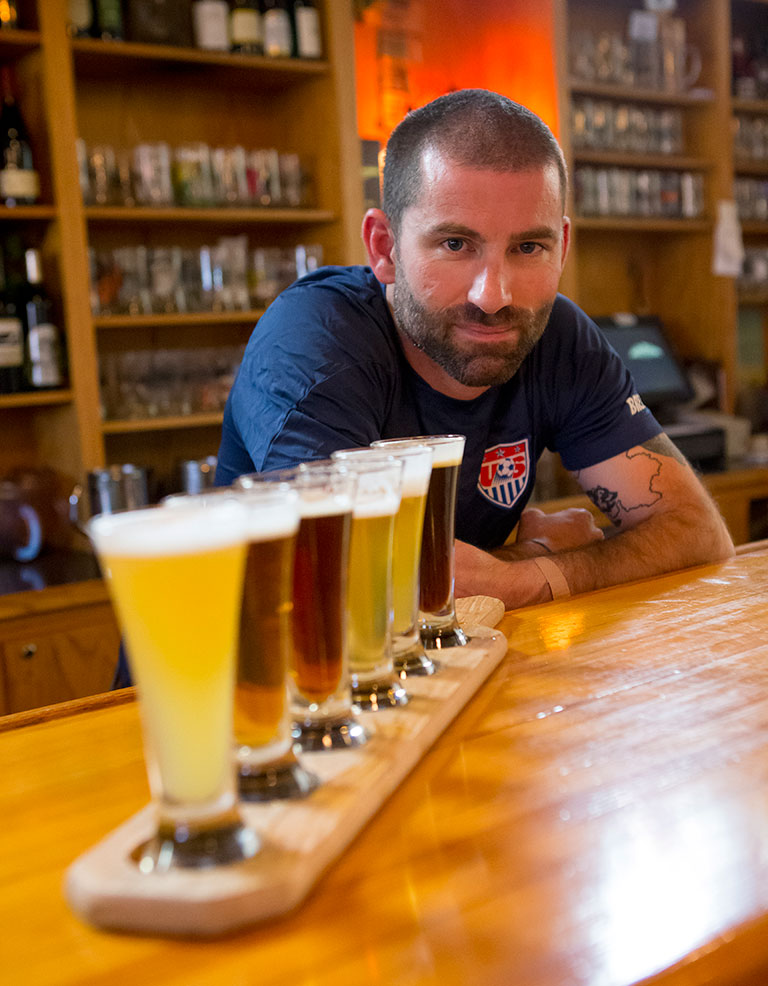 When you first meet Jared Long, the head brewer at Altitude Chophouse & Brewery in Laramie, you see why people want to take his class. He has the spirit of a teacher, someone who makes you want to learn. He hails from the northwest, and he exudes that area's distinct low-key comfort and friendliness with a cultured urban appeal. Sporting a collection of tattoos, it's clear from head to toe that he has a passion about what he does and is happy to engage customers – and students.
It only makes sense that Long is leading this class in the community. He started as an educator, teaching sixth grade for a number of years, but realized when he was in a Ph.D. program in geography that the path wasn't for him. Gradually moving toward brewing science, he now has a role that fills his two passions of brewing and education.
Craft beers, which many people used to call "microbrews," continue to grow in popularity in Wyoming and across the region. These small-batch brews allow for ingenuity in the process and creativity in flavors that aren't viable in mass-produced beers.
"I'm just fascinated by the art of crafting," Long says with a smile that stays on his face any time he talks about his job. "I just keep trying to learn, to experiment, to improve the entire process."
And the process is incredibly involved. While it allows for creativity, science and methodology are crucial to the success of each beer. Yes, there is definitely math involved in brewing.
At Altitude, they make seven-barrel batches. Each batch produces 14 full size kegs, which amounts to around 250 gallons of beer. With five different vessels, they can have five beers fermenting simultaneously.
Like a good chef, he tastes the product throughout the process to ensure there are no "off" flavors. He's discovered that it's wise to do a small, serious taste in the morning when his palette is at its best.
While he learned a great deal from mentors and other brewers, he also had to learn a great deal on the job, including the scientific components. It's this hands-on research that serves him well with students, since he often has immediate firsthand knowledge about what will and won't work in the creation of a craft beer.
"It's an empirical science, so you get better each time just by doing." He mentions that the palette is one of the best tools a brewer can use. "How did you do on your recipe? Is there a flavor that shouldn't be there? How did it get there? How can you fix it next time?"
The LCCC course allows him flexibility, but much work is involved. Contrary to the expectations of some, it isn't just sitting and drinking beer all day. This is a culinary craft.
Usually the maximum class size is around 12 students. As a group project, the class creates a single beer, with the most recent one being a "smoked malt" selection. Long had never worked with that type of malt before, so it allowed for a fresh experience for teacher and students. When it's ready, the beer is available on tap at the brewery.
"This is not a common class a person would take," said Christie Goertel, the program manager for life enrichment at LCCC. "We're interested in offering courses that provide the community with as many different experiences as we can."
Students in the course may be hobbyists, some who make just a few batches each year, others who are serious home brewers or beer enthusiasts.
"Brewing has such a distinguished history, and people may not fully realize all that goes into brewing a craft beer. This class gives students an understanding of why different types of beer appeal to different people," Goertel added.
"All the students share a common scholarly interest: beer," Malm said.
Long knows that community is key to the program's success, and he works hard to ensure that he and Altitude remain connected to Albany County.
"The town really fosters a culture of learning and supporting businesses," he shared, acknowledging that a partnership opportunity like this with LCCC wouldn't be possible in larger areas.
The future for classes like these looks bright. The Albany County Campus also offered "Flavors of Beer," which gave students a chance to explore the intricacies of beer tasting and articulate the various qualities they find in each product, much like how people already do with wine. Further classes include similar topics such as distilling, and there's hope to add courses in Cheyenne.
In fact, Malm would like to explore the idea with LCCC administration of the possibility of a fermentation science program at the credit certificate or degree level, which would go beyond the realms of just brewing.
Long calls the partnership "awesome" and loves that he's been able to improve the course each time he's taught it.
"I love how tangible it is. At the end of the day – with the class and with the brewery – I can see what I did. This is really the best of both worlds."