A Personal Brand
How we present ourselves both in-person and online matters. Spend a few minutes talking to Frances Reimer, founder of Firestarter, a personal branding company in Virginia, and you'll see why.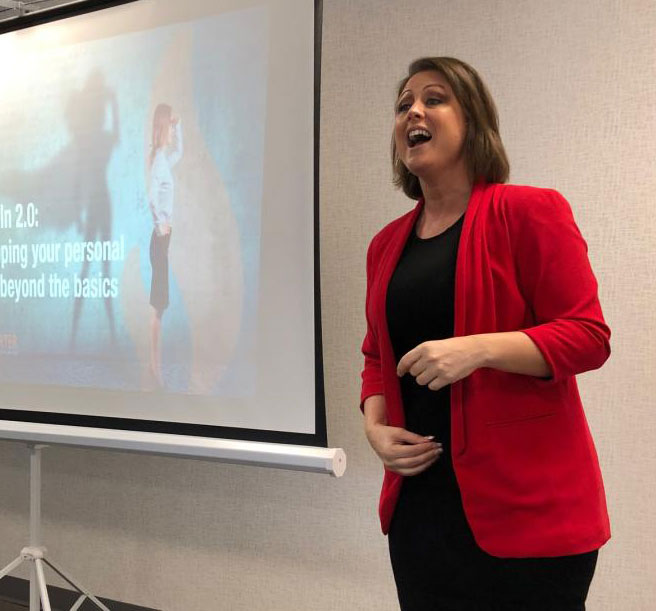 LCCC Men's Soccer player Anthony Quidachay (right) learned about the many layers of personal branding from expert Frances Reimer (above).
Six Laramie County Community College students had a chance to spend much more than a few minutes with Frances this spring. Frances, who is originally from Cheyenne, partnered with LCCC's Career Center to offer an eight-week personal branding course tailored to college students.
Some may wonder, "What is personal branding?" According to Cassidie Jones, a physical therapy student who took the course, personal branding is presenting yourself the way you want to be seen by others. It includes things like creating a persona, thinking strategically about how you use social media, and real-life networking and communication.
Anthony Quidachay, a student athlete who is studying business & accounting, also took the course. He said personal branding includes "things to help you get noticed" and "ways to put yourself out there."
"The point of the curriculum is to give students a tangible and practical look at what personal branding is, the impact that it has, and how anyone at any age with any kind of budget can get into the driver's seat of their brand and make the most of it," Frances said.
The students met one-on-one with Frances for 30 minutes each week. This allowed her to meet students' individual needs. The students had a variety of goals including law school, published author, commissioned artist and more.
"She [Frances] would apply the concepts to what we wanted to do. She was always aware of where we wanted to get in the future," Anthony said.


Cassidie added, "This is something that could benefit anybody. It's relevant in the short-term and the long-term."
"LCCC Career Services was excited to bring a program to our students that teaches an extremely valuable skill such as personal branding. LCCC is always striving to provide unique and beneficial student experiences," said Career Services Coordinator Adam Keizer.