Going to college wasn't always a part of Jack Lance's life plan. But during his sophomore year of high school in Green River, Wyoming, he was inspired to pursue a career as a sound engineer.
"I have always loved movies, especially animated movies, which were a big part of me growing up," Jack says. "Music has always been super important to me and I wanted to learn how to make music, and make the music sound good."
Going to college, however, initially felt daunting to Jack, who aims to be the first in his family to earn a college degree. That is why Jack is part of the inaugural class of the Davis First Generation Experience at LCCC, a program designed to help students who are the first in their families to traverse the college path.
As his second semester at LCCC neared its end, Jack says he felt like he had a support system on campus that makes anything possible.
"The DFGE allowed me to more closely connect with a group of people I would have otherwise never met," Jack says. "I now have meaningful friendships that will last me a lifetime thanks to the experience."
The Davis First Generation Experience (DFGE) is designed to help incoming first-generation college students feel comfortable on LCCC's campus and ready for the challenges of going to college. Dr. Danielle Ryan, LCCC Human and Public Services Pathway coordinator and the DFGE's co-lead, says it's her hope that the program will help the first-generation students she's working with stay in college until completion.
"My angle is doing whatever we can do to help them stay in college, feel comfortable and build their confidence," Danielle says, who is a first-generation scholar herself.
Definitions of a first-generation college student vary, but it's commonly understood as students whose parents did not complete a four-year degree.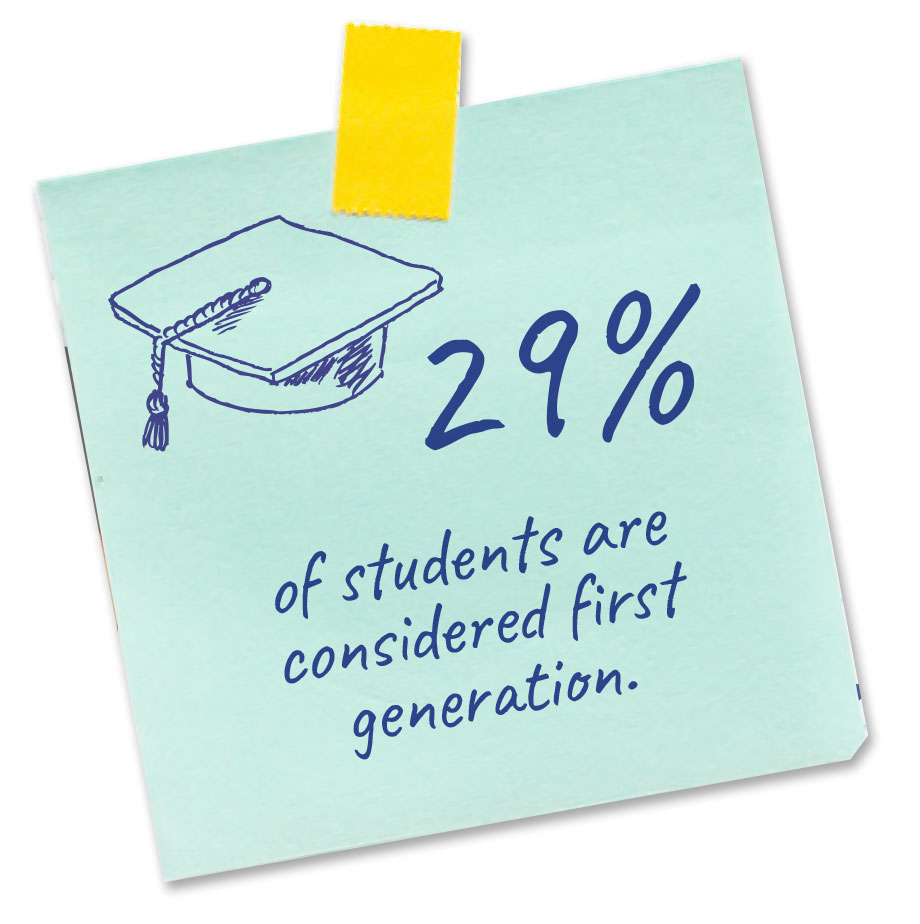 At LCCC, 29% of students are considered first generation.
First-generation students, Danielle says, face unique obstacles in going to college. A considerable body of research indicates that students whose parents have not attended college often face significant challenges in accessing postsecondary education, succeeding academically once they enroll, and completing a degree, according to a 2018 study from the U.S. Department of Education. The report found first-generation students enrolled in college at lower rates than peers whose parents had college experience and first-generation students are less likely to obtain a degree or certification.
"We have incredible resources at LCCC to help them move from feeling like they don't 'fit in' to owning their collegiate experience and understanding how they can make this work for them and how this will help future generations in their families," Danielle says.
The DFGE is made possible through the generosity of Dr. and Mrs. Harmon Davis, both first-generation college students. Dr. Bud Davis, a retired physician who has lived in Cheyenne for more than 40 years, says he wanted to see more first-generation students at LCCC earn degrees or certificates. But he says many of those students face the challenge of not having family members with a higher education background who can help guide them through the experience.
"Even though the college has counselors and people to help, [first-generation students] just don't know where to turn," Dr. Davis says.
"Hopefully giving them this introduction, letting them see what's available and spending some extra time explaining what it means to be a college student will help them be successful."
Danielle is looking forward to a new cohort in Fall 2023 of at least 22 new Davis scholars. After two semesters, nearly all of the students in the cohort who began the inaugural semester are still LCCC students. Danielle says it's a testament to their willingness to give it their all.
"Coming in, they knew college would be difficult, but most have realized that if they put in the work they can succeed at whatever they put their mind to," Danielle says.
For those who are beginning the journey, Jack says it just takes the determination to aim high and believe in yourself.
"You will never know just how successful you can be if you never try, and what's the harm in trying?" Jack says. "In my own experience, I've had countless people backing me up in my education and I can find encouragement anywhere I look."