Bringing awareness
Even though he's new to campus this school year, Psychology Instructor Ezras Tellalian is already leaving an impression on the college community.
Ezras came to LCCC from very different places: California, New York, Armenia. He'll tell you his path has had twists and turns, but the common thread through his stories are people and passions.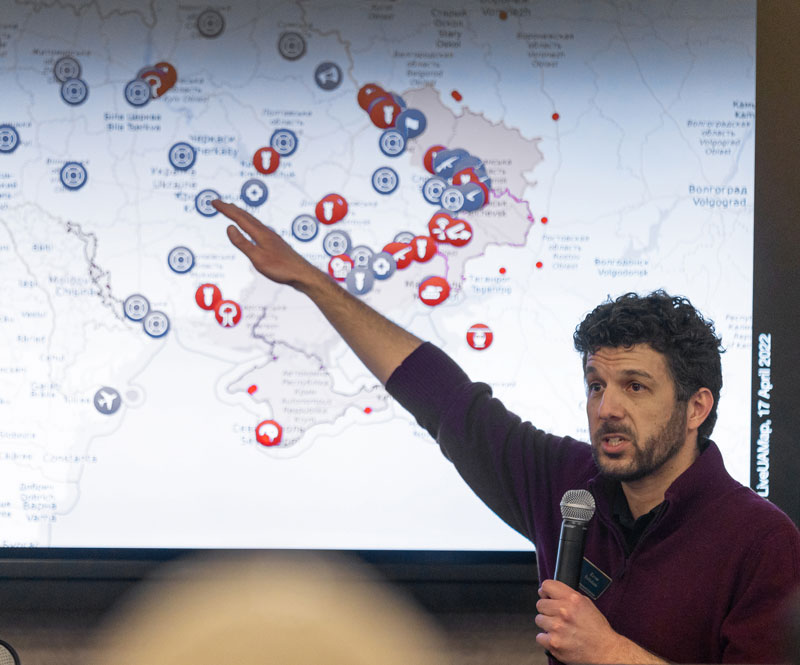 His Start
Ezras grew up in Central California and began his educational journey at Fresno City College, a community college near his family. For him, the location and cost made the most sense. He didn't want to burden his family with tuition expenses.
Like many students, where Ezras started was not where he ended. Ezras began his studies in computer engineering. But he decided he didn't want to work in front of screens for the rest of his life; he wanted to work with people. He switched his major to psychology his last semester at the community college.
Ezras finished his bachelor's degree at California State University in Fresno before moving to New York to begin seminary studies. Earning a Master of Divinity and doctorate in psychology, he intended to combine theology and psychology in a practice. Plans change, and Ezras found in his clinical work that the most effective interventions were psycho-educational in nature. In other words, teaching people seemed to help them the most. Now he has a whole classroom of students to educate about the principles of psychology, about understanding and about less judgment.
"Some of my classes may border group therapy at times," he admits.
Beyond Teaching
Teaching is just part of his passion. Ezras is third-generation Armenian in the USA. Inspired by his heritage, he learned the language, traveled and bonded with the country and its people. He first visited Armenia in 2001 and has continued to travel there every few years. He has celebrated their history with them and most recently worked with a local media outlet to photograph and share the impact of Armenia's ongoing war with Azerbaijan.
At LCCC, Ezras is using his passions to expand awareness about the complexity of these types of conflicts. Last fall, he shared his experiences through a photography exhibit and discussion about the war in Artsakh (Nagorno-Karabakh). When you look at his photos of war and hear his stories, you expect to find destruction and chaos. It's there, but there is more. There are people. There are families. There are gatherings. There are special moments. There are lives being lived. Ezras' goal is to bring that full story—the similarities of all of us as people—to others in distant parts of the world.
He's not just focused on Armenia; he wants to honor all people and humanize their experiences, especially in unfamiliar places. This spring, Ezras moderated an event on campus discussing the current Ukraine/Russia war, giving students and the community the opportunity to learn about it beyond what they see in the media.
LCCC Coordinator of Student Engagement & Diversity Zeke Sorenson says, "Ezras is a welcome voice and perspective when it comes to diversity and cultural topics on campus. I appreciate the insight and thoughtfulness he brings to the table and look forward to building our partnership in future collaborations and projects."
Ezras is also involved in performance music at LCCC. He is the bass in the Cantorei vocal ensemble. During the April concert "Music...Literally!" he helped expand the type of music shared. "I reannotated an Armenia hymn that we performed, which translates to 'O Amazing Mystery.'" He explains that the Middle Eastern music system has a very different model of music, usually a drone underneath the whole thing and then a melody over it.
"I want to share as much as I can. There has been a wonderful reception for my culture," he says.
Photography by Ezras Tellalian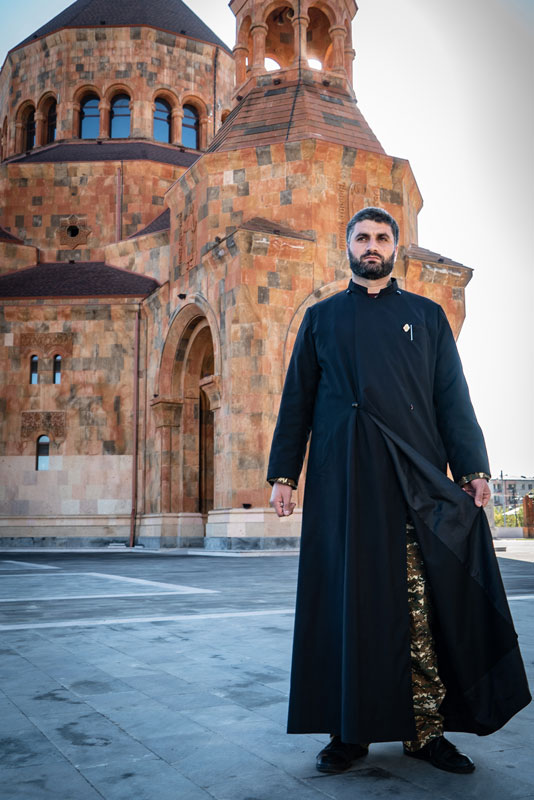 Oct. 22, 2020, Stepanakert, Artsakh — Fr. Varazdat, a military chaplain, was on the front nearly daily, baptizing soldiers and counseling them.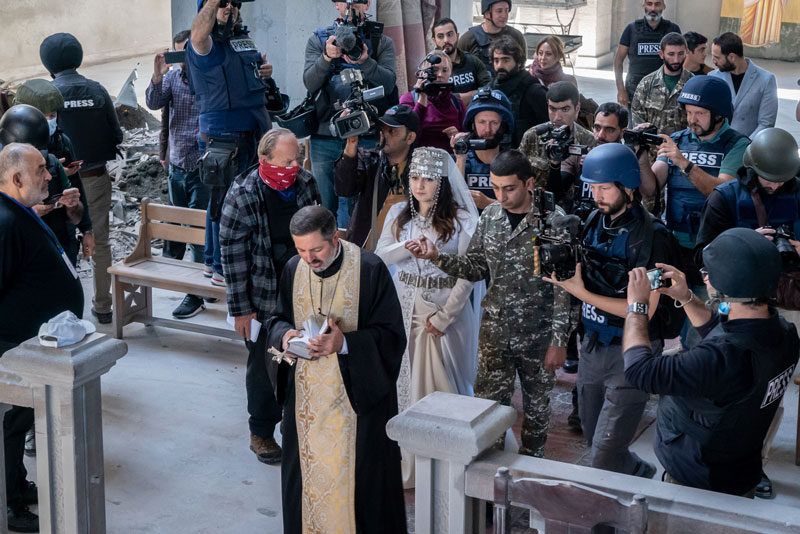 Oct. 24, 2020, Shushi, Artsakh (Nagorno-Karabakh) — Mariam and Hovik set the wedding date before the war, but it would have been bad luck to change it. Their families had fled and were therefore not present.
The Future
Ezras will tell you he appreciates the community at LCCC. "They are constantly striving to do better for the students and improve the courses or teaching style based on feedback," he says. One of his teaching goals is to open a research lab on campus to provide opportunities for students to do psychological-based research before they get to a four-year school. He has experience running one and is excited about the benefits this can provide students.
"The Psychology department is incredibly grateful for Ezras' presence at LCCC. His willingness to share so openly and passionately about his global experiences, the diversity of human conditions and the issues plaguing us worldwide has created a platform for students, LCCC employees and community members alike to share in the experience," says Psychology Instructor Amanda Brown.