Sense of family keeps LCCC employees around for decades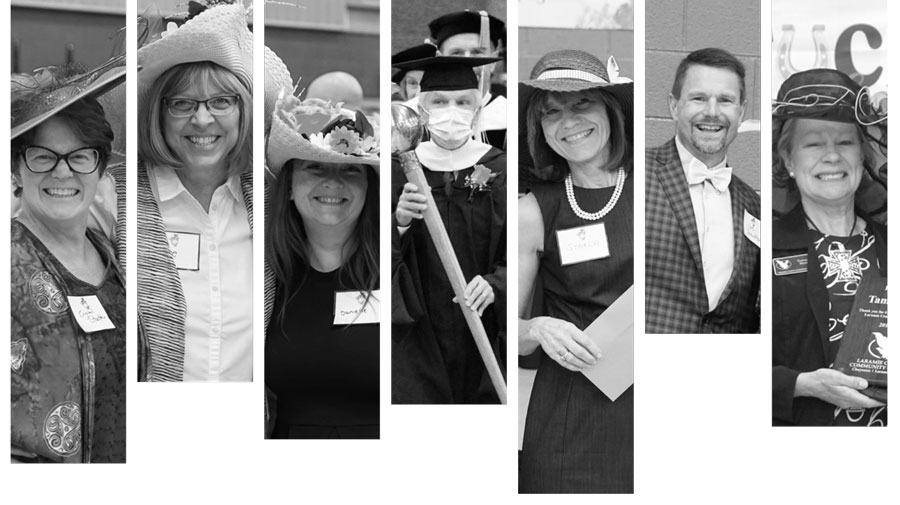 Human Resources Specialist Melissa Dishman was not too surprised when she saw name after name on the list of employees being recognized for working at Laramie County Community College for more than 30 years at this year's employee recognition banquet.
In fact, as of May 2022, the college had 13 employees who had been working at the college since the 1990s, at least. The longest-term employee, English instructor Dave Zwonitzer, has been employed at the college for 44 years.
Five employees have been at the college for 25 years or more and four have been employed at LCCC for more than 20 years.
"Whenever we do either new employee interviews or discussions with veteran employees, they all say they love the family-feel," she says. "It's just one big family and the people are their favorite part about working at LCCC."
This is why Melissa was not shocked to see more than a dozen employees have stayed with the college for decades—it's because of the sense of community and belonging the administrators, instructors and students together have fostered.
Dave started working for the college full-time in 1978, has been an advocate for LCCC since before it was approved by voters, and says it's the students that keep him coming back.
"Most of all, I'm dedicated to mastering my profession, which means being dedicated to students," he explains.
The COVID-19 pandemic was a good example of this, showing how this relatively small college in southeastern Wyoming could band together and make it through such an unprecedented time, even managing to grow its student numbers.
Melissa says one fun aspect of starting a job at LCCC was the cohort of new hires from other departments that a new employee gets to meet on day one. This way, HR creates a smoother transition for those starting jobs on campus and gives them a chance to meet new people right away.
"I think because we are smaller, we tend to get to know people even outside of our department," she explains. "We've tried to eliminate those silos and get people involved in committees outside of their areas."
As of May 2022, LCCC had 364 full-time employees and more than 400 part-time employees. Of the full-time employees, dozens were honored at the employee recognition banquet for their years of service to the college, whether it was five or 30.
Recognizing LCCC employees for the value they bring to the school is something important to college administrators, Melissa says.
"I think the more we can celebrate each other and recognize the contributions that people make, the better people feel about what they
do here," she says. "A lot of people on campus don't do things for recognition. They just quietly do their job, but we want everyone
here to feel appreciated."
Erin Palmquist, an administrative assistant in the School of Arts & Sciences, has been with the college almost 34 years, and just like Dave, it's the students and the family atmosphere that make her job worthwhile.
"I truly love being in the education environment and being a part of the students seeking and achieving their goals," she explains. "My friends/colleagues here are life-long friends, we are family."