LCCC alumni makes his mark in the weather-forecasting business.
Don Day Jr. spends most of his time looking to the future. As a meteorologist and president of a meteorological consulting company, people look to him to tell them what they can expect in the hours, days and seasons to come. But when Don got his start at Laramie County Community College, his forecast for his life was a little foggy.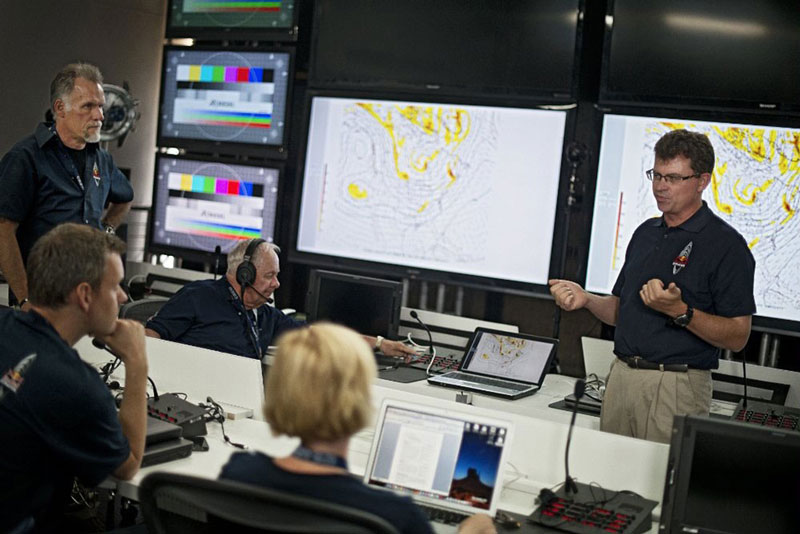 Don has roots in Wyoming. Growing up, his dad's military career brought them to Cheyenne. Even though the family moved several times, they returned to the area during the summers to visit family and soak up some Wyoming sun. Once he graduated from high school in Michigan, he again returned to the Cowboy State— staying with his grandparents as he attended his first year at LCCC.
Although Don always had a passion for meteorology, it wasn't what he first envisioned for his life.
"I'd always loved meteorology, but I was terrified of the math and physics," Don says. "I enrolled at LCCC and took journalism classes thinking I'd transfer to the University of Wyoming for broadcast journalism."
Don began at LCCC during the fall semester of 1986 and transferred to UW for the next year. While attending LCCC, he stayed involved in his coursework, wrote for the student-led Wingspan newspaper, took photos on campus and developed his own film. He fondly remembers braving the heat of the golden eagle mascot costume during basketball games, although he remembers the initial costume looking more like a chicken than a golden eagle.
"When I transferred to Laramie, the involvement at LCCC really got me out of my shell and taught me that to get the full experience you had to branch out and do more than only attending classes," Don explains. "Part of it was the culture, but part of it was that I had some really good instructors, and I really grasped the experience."
When he transferred to UW, Don was encouraged by an advisor to take an introduction to meteorology class to prepare for the possibility of being placed in front of a green screen during a broadcast. The class reawakened his interest in the subject, and he changed his major to meteorology.
When he graduated from UW in 1991, Don was on course to work for the National Weather Service, but a hiring freeze struck just as he entered the workforce. Fortunately for Don, his time at LCCC set him up for success in a unique business model.
Instead of waiting for the freeze to pass, which could have taken years, Don started his own meteorological consulting firm called DayWeather. He describes himself as a "weather guy for hire." Whenever someone needs a customized weather forecast, Don is there. Anyone who operates a business dependent on weather can hire Don for a weather forecast. DayWeather primarily started working with radio stations providing a forecast when people needed it the most.
"When I started the business, my idea for the radio program was thinking about farmers, ranchers and people who travel," Don says. "People are up early and need their weather early."
Knowing and understanding the meteorology is essential in his business, but there's more to it than that. Don's time at LCCC taught him how to communicate information effectively to the public, which he credits with his success.
"My time at LCCC helped immensely," he says. "I'm in the communication business. The ability to be able to condense information is really helpful. In my business, you can be the best meteorologist, but if you can't communicate, it's no good at all."
LCCC contributed to Don's success in more ways than education. As Don got his start, LCCC had a business incubator for entrepreneurs. The program gave him the chance to rent affordable office space while getting business advice. After three or four years of his business developing, he found success and was able to move to a new space and new opportunities.
As president of DayWeather, Don employs five people and has been involved in several exciting projects, including the Red Bull Stratos project, a high-altitude skydiving project that involved an Austrian skydiver free falling to the earth from the Stratosphere in Las Vegas. He's also worked with illusionist David Blaine.
Don has given back to the school that gave him his start. He sits on the advisory board for LCCC's STEM Pathway, and this year joined the LCCC Foundation Board of Directors. He said he enjoys interacting with students, meeting people from all walks of life and seeing how the college helps the community.
"I think that LCCC, and all community colleges in general, play such an important role in the local and statewide community in terms of being a place where people can learn outside the four-year college structure," he says.
He didn't know it when he started at LCCC in 1986, but the school has played a huge role in Don's life. As he looks to his future, he's confident it involves continuing to give back to the school that's given so many opportunities to him.