Information technology programs are on the rise at LCCC.
In just the last five years, eight programs have been added within the IT field and six more are in development. The growth makes sense considering IT as a career field is booming. Demand is so high, many of the successful graduates from the IT Pathway will have secured employment prior to graduation or shortly thereafter, with industry certification and practical experience boosting their opportunities. And long-term outlooks for the field show no sign of slowing growth, as the pandemic exposed technology needs and growth opportunities for many organizations.
How long is the average time to complete a program?
The programs are designed to begin producing employable graduates in as little as one semester. However, most students take 1.5 semesters to complete Datacenter, and five semesters to complete the AAS.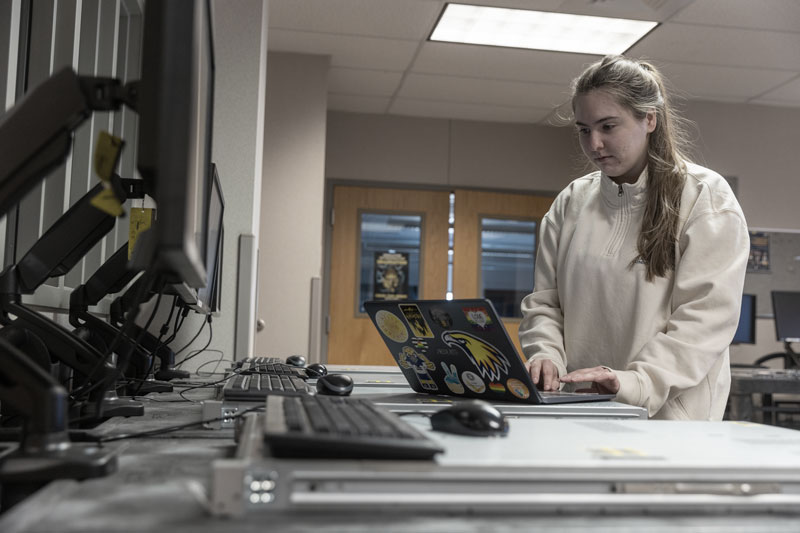 1
One semester is all it takes to get the education needed for an entry-level IT position.
130
130-150 degrees or industry certifications are awarded annually.
34:1
On average, classes have a student-to-faculty ratio of about 34:1.
New IT programs added in last five years:
Datacenter Specialist CD
Cybersecurity Administrator CD
Telecommunications Specialist CD
Virtualization and Cloud Administrator CD
Data Analytics Systems CD
IT Pathway AAS
Cybersecurity AAS
Data Analytics AAS
Most in-demand careers:
Locally, Datacenter Specialist graduates are in the highest demand, with salaries in the $45,000—$55,000 annual range.
Regionally and nationally, Cybersecurity AAS graduates are in the highest demand, with salaries in the $55,000—$75,000 range
(more with experience).
The fastest growing field is in Data Analytics.